14 Best Sports Apps Available on iPhone & Android 2021
Sports is one of the significant sources of entertainment for millions of people around the globe. The majority of people love to watch their favorite sports match from the comfort of their home.
Also, various people love to know about the latest news about particular sports. However, due to their busy work schedules, they are unable to keep an eye on the latest things revolving around the sports world.
Considering the demand of these sports lovers, various small to big businesses worldwide have launched sports apps.
However, with the vast number of sports apps available in the market, people find it challenging to choose the best sports app that fulfills their needs.
Here, we have done the hard work for you and curated the list of sports apps that consists of high-quality photos, videos, match schedules, etc. You can rely on these best sports apps to know instant details about various sports.
So, here we go:
| Sr. No | Sports App Name | Play Store | App Store |
| --- | --- | --- | --- |
| #1. | Bleacher Report | | |
| #3. | Yahoo Sports | | |
| #4. | theScore | | |
| #5. | NBC Sports | | |
| #6. | 365Scores | | |
| #7. | CBS Sports | | |
| #8. | BBC Sport | | |
| #9. | Live Score | | |
| #10. | ESPN | | |
| #11. | SofaScore | | |
| #12. | FlashScore | | |
| #13. | The Athletic | | |
Let's look at each of these best sports apps in detail:
Various people only want to know about the specific sports teams and the live scores. However, some people are never satisfied with this info and want to know in-depth about rumors, news, and predictions about their favorite sports team.
Image Credit: Bleacher Report
The app gathers information around the web and provides you with the most important sports news. If this resonates with you, then a bleacher report can be your companion.
Key Features of Bleacher Report App
Get live news, scores, schedules, stats, and rankings of leading leagues like NFL, NBA, NHL, etc.
Choose team, player, league, and get instant articles in the "My Teams" section of the app.
Read stories written by professional sportswriters in the app.
Bookmark any of the posts you love and also share them across different social media platforms.
Fox Sports App is owned by Fox Corporation, a well-known American mass media company. The company has lately updated the Fox sports app considering the trend of a modern sports fan. It is available for both Android and iOS.
The app is user-friendly and beautifully designed. You can instantly find what you want with just a click. It keeps you updated with news and highlighted in a tailor-made feed with stories, scores, etc. You can also receive updates from your beloved FOX Sports shows and on-air personalities.
BTN (Big Ten Network), which offers the premium coverage of America's legendary collegiate athletic conference on the Fox Sports App. You can watch your favorite sports, such as MLB, Soccer (MLS, EPL, Bundesliga), WWE SmackDown, Tennis, Rugby, etc.
Key Features of Fox Sports App
Stories keep you updated with essential topics of the day covering multimedia outlook and analysis from various famous voices in sports.
All the TV subscribers can view FOX Sports games and studio shows with a click of a button.
Some of the games and events consist of bonus cameras through which users can view secondary feeds with various camera angles and points of view.
Instantly navigate from one score page to another.
Yahoo Sports is yet another best sports app for android and iOS users which is absolutely free. The app uses your geolocation to offer the most exciting and customized sports news. You can watch NBA & NFL games live on your smartphone or tablet.
Image credit: Yahoo Sports
Besides leading football leagues, you also get live coverage of global leagues and competitions such as cricket, golf, tennis, boxing, cycling, etc.
Key Features of Yahoo Sports App
Select your favorite teams, leagues, players and get tailor-made updates.
Improvised search functionality to spot various videos and blogs.
Sportsbook provides steps for new betters to start betting.
Eye-catchy user interface.
People find it challenging to keep an eye on a single sport. However, what if you love multiple sports? Surprisingly there is an excellent sports app that provides updates of the same. TheScore app offers you updates about your favorite leagues from each sport. It includes football, basketball, baseball, and hockey.
Moreover, the app provides instant sports analysis, and scores. It also consists of a built-in sports calendar using which you can know about the future games.
Key Features of theScore App
Live score dashboard.
Tailor-made news feed.
The mute notifications feature enables you to mute alerts of a specific game temporarily.
Enables you to group chat with other fans.
Provide multiple social media sharing options.
It is a well-known Sports app owned by NBC Sports, an American programming division of broadcast network NBC. The app is available in the USA and several US territories.Moreover, it is the leading app on Apple's app store.
The app allows you to watch thousands of sporting events on various channels like NBC Sports, NBCSN, NBC Sports Gold, Telemundo deportes, and Olympic Channel.
The app's UI is user-friendly and smooth. You can switch from one screen to another efficiently.
It enables you to live-stream various events such as NFL, NHL, PGA Tour, Premier League, French Open, and more.
Key Features of the NBC Sports App
You can watch video clips, preview forthcoming events, and view highlights of past events.
Get notifications about all the upcoming events.
Watch full event replays when you have missed an event or want to relive the great moments.
It offers a Subscription plan known as NBC Gold. With this plan, you can watch live & on-demand events on multiple devices. Besides this, you also get bonuses and exclusive coverage of events.
365Sports is one of the most extensive sports apps available in the market. The app enables you to choose the favorite team, sport, and athlete and starts buzzing your phone with important notifications. The app provides you updates about 10 different sports such as football, basketball, cricket, volleyball, etc.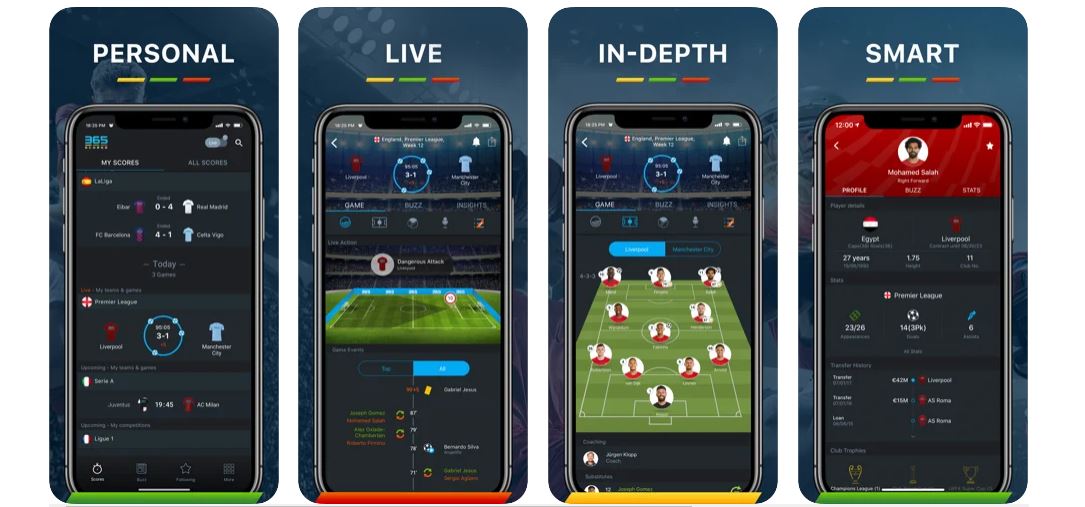 Also, it offers you with the details of more than 2000 competitions worldwide such as Wimbledon, FIFA, NFL, NHL, IPL, etc.
Key Features of 365Scrores Sport App
Live game tracker enables you to experience the game in the best possible manner.
The app is available in over 20 languages.
With the help of the buzz stream feature, you to catch up the most precious moments of the day when they are over.
CBS Sports is one of the leading sports apps available in the market. It enables you to select your favorite team and get instant updates related to scores, stats, and analytics. Here, you can also stream popular sports events like NCAA Basketball and PGA Tour.
Moreover, the CBS Sports app is compatible with Android TVs; hence you have the option to connect the phone to a bigger screen and enjoy a breathtaking viewing experience.
Key Features of CBS Sports
Stream news anywhere and anytime.
Get highlights of your favorite match whenever needed.
Obtain betting advice from CBS Sports Fantasy Experts.
Tailor-made news and updates.
It is the sports app built by BBC where you can obtain the latest sports news and coverage. The app is originated in Britain and emphasizes five sports. These include football, Formula 1, cricket, tennis, rugby, and golf.
Besides this, you can also view several sports events running globally like FIFA World Cup, Olympic Games, etc.
Key Features of BBC Sport App
Get state-of-the-art personalization on the 'My Sport' page. Moreover, you can follow around 300 topics.
Stream live videos and highlights on the TV via Chromecast.
It consists of an integrated radio player, which you can use alongside browsing the app.
Instantly share stories and results with your friends and followers.
Set reminders in advance of specific events and get push notifications when the event starts.
LiveScore is famous for offering on-the-go standings and scores from the year 1998. As compared to other sports apps, LiveScore app score updates are the quickest.
Here, you can get real-time scores about popular sports such as tennis, basketball, football, soccer, and hockey.
Key Features of Live Score App
Check scores, goals, cards for various matches parallelly. Check a particular detail about any match by following it.
The Explore icon enables you to discover hundreds of competitions running across the world.
Utilize calendar features into the app to make essential fantasy football decisions.
Monitor the ball, scores, and action using the pitch view.
In-depth live match commentary is available.
ESPN is one of the oldest sports cable TV networks that is popular among sports fans. Considering the rising demand for streaming, ESPN made its shift in the mobile streaming world. Currently, it is one of the best sports apps for iPhone users in the US, as per SimilarWeb.
The app keeps you updated with constant scores, sports videos, and other content of various sports. You can customize the app as per your needs and get updates on your favorite sport and teams.
Key Features of ESPN App
Real-time coverage of multiple sports such as football, baseball, softball, golf, tennis, etc.
It provides a paid service known as ESPN+ that allows you to watch live stream sports and various ESPN+ originals.
Watch breaking sports news anywhere and anytime.
Listen to the latest sports news through ESPN podcasts and ESPN radio.
SofaScore is a leading sports app with real-time coverage of 20+ sports worldwide. These include football, volleyball, cycling, tennis, and so on.
SofaScore provides sports updates of over 5000+ leagues and tournaments, events, and various esports competitions.
The most exciting thing about SofaScore is that it is compatible with Android smartwatches and enables you to catch sports updates on it.
Key Features of SofaScore
Heatmaps and shot maps to picture the movement of the player in the entire game.
The attack momentum algorithm shows the match dynamics and overall pressure on a team in a league.
The group chat feature enables you to chat with sports fans globally.
In-depth forecasts about the winning team, details about the suspended match, etc.
Interesting quizzes to overcome your boredom.
FlashScore has massive coverage of over 38 sports and more than 6000 competitions worldwide. You can check the recent scores, statistics, and standings of various sports.
Using this app, you get all the match updates simultaneously to a live audience in a stadium, which makes it one of the best sports apps among sports fanatics.
Key Features of FlashScore
Ability to save favorite matches, teams, and competitions to get instant alerts.
Effective synchronization across multiple devices like a smartphone, computer, and tablet.
Comprehensive live text commentary for various sports events.
An extensive preview of all the matches running in leading leagues and post-match reports.
Various sports fans do not like to watch ads while getting updates about their favorite sports. They feel irritated due to these ads.
To cope up with this, the athletic app provides an ad-free experience starting for $4.99/ month.
Also, it provides in-depth analysis and exclusive articles from professional sportswriters. Moreover, it offers a 7-day free trial for android and iOS users. If this thing resonates well with you, then you should give this app a try.
Image Credit: The Athletic
The app covers sports news of various leagues like NFL, NHL, EPL, MLB, etc.
Key Features of The Athletic
Get real-time commentary about a game from the top sportswriters.
Listen to podcasts of your favorite teams and leagues
Chance to interact with sports enthusiasts on live Q&As along with athletic writers and valuable guests in NBA, MLB, EPL, etc.
Check professional analysis on draft kits, player report cards, fantasy guides, scouting reports, and advanced analytics.
It is yet another popular sports app available in the industry. It is liked by more than 5 million football fans worldwide. The ultimate purpose of Forza football is to provide updates about every football league running in the world.
Currently, the app refreshes every 10 seconds and provides in-depth coverage of more than 420 football leagues running worldwide.
Image Credit: Forza Football
You can follow various football premier leagues running across the globe, such as UEFA Champions League, Women's World Cup, EFL Championship, etc., and get updates.
Key Features of Forza Football
You can view pre-match lineups along with formations, player photos, potential substitutes, and injuries.
Real-quick & precise football match updates as compared to any other football apps.
Get player stats, live football scores, football fixtures, and highlights on the go.
The app conducts polls regularly where you can share your opinions with other football fans.
Here we conclude our list of the best sports apps available for sports fans. All of these apps provide instant updates about various sports in different formats right at your fingertips. Now, you can download any sports app based on your requirements.
Considering the success of these sports apps, if you want to enter the sports bandwagon by launching an app, you can contact us.
At Guru TechnoLabs, a sports app development company, we possess a skilled team of professionals. Our team will understand your sports idea and provide you with the most suitable sports solution.