Our Ecommerce Development Services
Ecommerce Consulting
We offer the best eCommerce consulting services to help you improve operational efficiency and experience great user online experience throughout the site. Our team helps customers expand eCommerce's roadmap with the support of optimal technologies.
Ecommerce Prototyping
Our adept eCommerce designer team places a strong baseline for your store's functionality by creating your store's wireframes and architecture to provide you with its actual look and feel.
Ecommerce UI/UX Design
Our eCommerce design services incorporate modern UX and UI aspects. Our creative team designs a website/app that looks great with enhanced functionality which increases engagement and customer retention & boosts sales.
Ecommerce Development
With our eCommerce development services, we develop an eCommerce website, application & custom extension with third-party tools to deliver you responsive and custom functionality solutions.
Ecommerce SEO/Marketing
By implementing the best SEO techniques and using the latest marketing tools, our team delivers an optimized eCommerce website that helps you increase traffic with better search results in varied search engines.
Content Migration
Want to migrate existing content or the entire eCommerce catalog? Get it done smoothly with our content migration service. We optimize your content for responsiveness, high readability, and less loading time.
Quality Assurance Testing
We conduct eCommerce testing services to validate that customers will get a seamless online shopping experience. Our QA team focuses on improving site performance, inspecting performance glitches, URL structure, 301 redirects & data integration.
Ecommerce Maintenance & Support
Whether installing the latest security patches or to support for anything in between proactively, we offer you continuous eCommerce store support to ensure your growth over time. With the dedicated support of experts, your site is maintained 24*7.
Ecommerce Module Development
With eCommerce module development services, we build high-end custom modules for logistics, inventory, warehouse management & many more that improve the online store's operations and functionalities. Also, we provide full-cycle ERP/CRM solutions for your business.
Ecommerce Audit
Want to identify & discard inconsistency within your eCommerce solution? We offer our clients a comprehensive audit of your eCommerce ecosystem that helps you prioritize and plan solutions that align needs and targets with your current eCommerce results.
Ecommerce Optimization
Based on audit results, our experts will tweak your store and help you optimize your eCommerce ecosystem. Through the relevant techniques and performance, monitoring will enable a customer to browse your online store & purchase without any hindrance.
Custom eCommerce Solutions We Provide
Auctions & Bidding Platforms
Want to create an auction & bidding site or app and broaden your trade experience? We have extensive experience creating user-friendly interfaces and feature-rich auction platforms that can be valuable resources for buyers and sellers. It includes a secure payment system, fraud prevention, compliance with laws & regulations, and more.
Booking and Ticketing Solutions
With our ecommerce booking and ticketing solutions, you can sell your ticket or book for events, activities, and other services conveniently. We focus on building e-commerce solutions that include online ticket sales, reservations, booking management, payment processing, and customer support to make it transparent for customers.
B2B Ecommerce
Want a solution that provides your business with data to improve operations? B2B eCommerce solutions allow one to buy and sell products and services online from a broader market. It includes features such as a customizable product catalog, an integrated shopping cart, and the ability to manage inventory and process orders.
B2C Ecommerce
We create B2C online stores with personalization, attractive UI, and high conversion potential to offer a seamless shopping experience. Boost your customer satisfaction, and increase your sales and revenue as our B2C eCommerce solution includes features such as a shopping cart and checkout process and integration with payment gateways.
Multi-Vendor Marketplace
Our multi-vendor marketplace solution allows businesses to create and manage their marketplace through a single interface. These solutions enable selling products or services by increasing sales and reaching new customers. It includes features such as a customizable marketplace website, multiple payment support, and managing orders and shipments.
Headless Commerce
By decoupling the frontend customer experience from the backend system, we create personalized and seamless shopping journeys across multiple channels through our Headless eCommerce solutions. Our team has working experience in different interfaces such as web, mobile, smart devices (watch, speaker), and AR/VR apps.
Cloud-based Ecommerce
Our cloud-based eCommerce solution adapts to your changing needs so you can scale your business. We use the popular Salesforce and Magento Commerce cloud solution to highlight & promote products on your alluring websites with high customization.
Our Expertise in Top eCommerce Platforms
We have in-depth expertise in the following ecommerce platforms to provide you with a reliable eCommerce
solution. Choose the preferred one as per your business requirements.
WooCommerce
If you are dedicated to WordPress and looking to turn this platform into an online store, WooCommerce is a perfect choice. It is an eCommerce platform that offers you rich functionality with incredible flexibility. With WooCommerce, we integrate WordPress website design and themes to create a beautiful storefront of an e-commerce store.
Magento
Magento ecommerce platform makes your online store perform better with modern features. It is best for large enterprises as it allows you to scale and customize services with a growing business. We understand your requirements & have enviable expertise in converting it into a fully-functional store with advanced personalization.
Shopify
Shopify is an easy-to-use eCommerce platform that allows you to build an online store faster. We provide Shopify solutions and upgrade stores with versatile features, customization, integration, and theme design to enhance the shopping experience for your customers.

BigCommerce
BigCommerce is a SaaS-based eCommerce platform that provides services to retailers with fast-growing businesses. Leverage the power of it to grow your online business as we provide online store creation, SEO, hosting, marketing, and security for small to enterprise businesses using this platform.
Our Ecommerce Development Experience
Babies Nutrition
Ecommerce Website Redesigning for Baby Products/Formula
We revamped the entire website by adding features and functionalities. We especially focused on creating attractive and easy-to-use websites as per the latest UI/UX trends. Our experienced developers succeeded in developing CRO-optimized websites generating great responses.
Results: After the launch, the client started getting orders in the first week, and sales are expanding beyond their expectation.Conversion increased by 200X.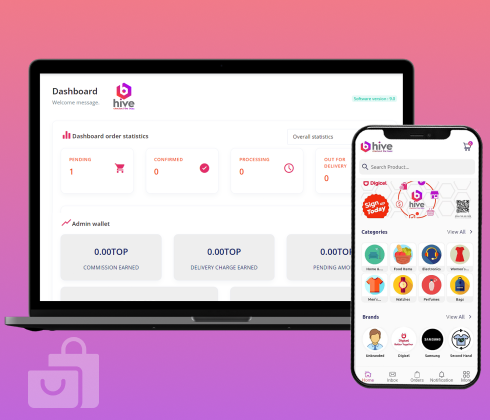 Beehive
Ecommerce Web and Mobile App Development (Marketplace)
We developed a website with a high user experience where user can buy their desired products and have a seamless shopping experience. Also, we have developed a mobile app using Flutter and working on the backend to make purchasing products easier. We built a delivery boy application and backend panels for sellers and delivery agencies.
Results: Stack holders started using it without complaints and platform started getting orders.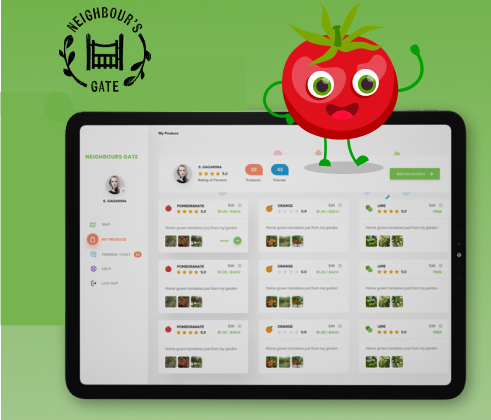 Neighbours Gate
Ecommerce Web App Development for Organic & Fresh Food
With the challenge of getting organic food online, we developed this amazing ecommerce marketplace web app where people can buy, sell and exchange organic, fresh fruits, vegetables, and herbs nearby other people. We integrated GPS so people can find other users' locations easily.
Results: Less wastage of food, and people can easily connect and buy or sell their food in exchange or for free.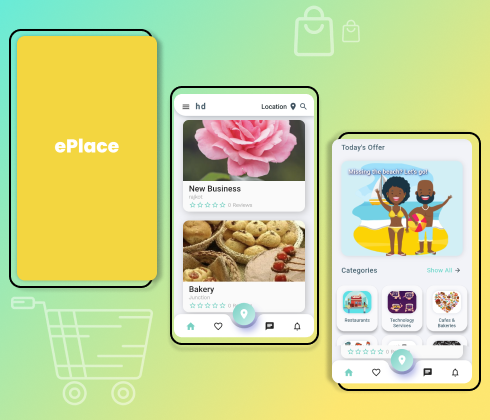 ePlace
Ecommerce Marketplace Development with Advertisement Portal & Designer Tool
We build a marketplace website and mobile app where local businesses can register themselves and grow their business. We developed a user-friendly marketplace where users can register, search for businesses/products and contact them nearby. Also, they can create an advertisement using the inbuilt ad designer tool.
Results: It benefits local businesses as they can grow their business presence efficiently.
Ecstatic CBD
E-commerce Migration for Online Store
Our team of professionals analyzed and decided to migrate an eCommerce store to the latest platform from Squarespace to WordPress. The team offered a store with enhanced features and CRO optimization. We have integrated it with CRM for customer data collection to offer a personalized experience.
Result: Smooth migration & increase in sales
Frequently Asked Questions