20 Ecommerce Strategies to Make Your Business Successful
Last Updated: July 5, 2022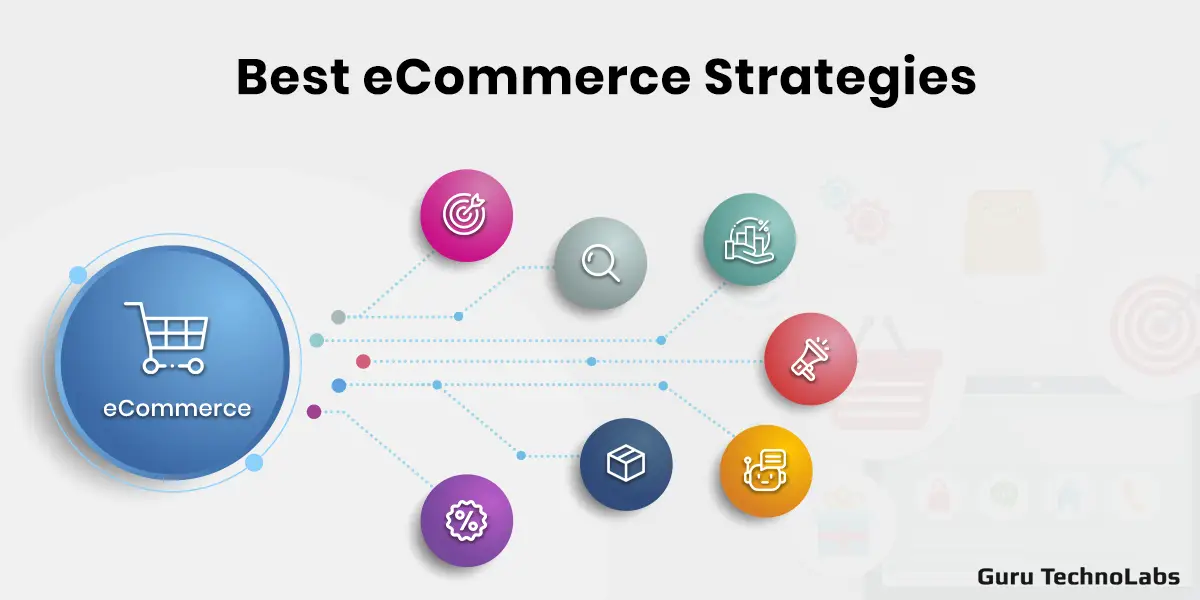 An eCommerce strategy is a detailed overview of how your eCommerce store wants to reach its future goals and improve its overall position in the market.
After developing and launching your eCommerce business, the next important step is to attract your target audience and get enough sales. And how can you achieve that?
Simple. By applying the best eCommerce strategies to your store.
With so many eCommerce strategies adopted by online stores over the years, it might be somewhat challenging to decide the best ones for your store.
We have done the hard work for you and found some successful eCommerce strategies used by leading eCommerce stores worldwide. By applying these strategies, you can achieve your eCommerce business goals efficiently.
Without waiting much, let's get started:
1. Improve Product Visualization
The biggest issue that a customer faces when buying something from your online store is that it does not allow them to hold the product in their hand.
To improve their experience, you can enhance the visualization of your store. To make it work correctly, you can use various features like zoom in and zoom out, product videos that will give the customer an idea about how it will look in different settings/angles, etc.
As an interactive part of it, you can use different techniques like the ability to place the product in a particular setting so that the customer can see the product and make an informed choice of whether to buy that or not.
You can also use a 3D representation of the product so that a customer can figure out its dimensions and choose whether it is optimal for his/her needs.
While making product visualization, you should consider that the experience should be enjoyable. Also, ensure that it should not take a long time for the web or app to show objects in a different setting, which can hamper the overall buying experience of the customers.
Loading time is an essential factor in any eCommerce store; hence you should consider it in your eCommerce strategy & planning.
2. Improve Search Effectiveness
Any viewer that visits your eCommerce store falls into two different segments.
One of them is those who know what they are looking for and have gone through several stores & then reached your store to have the best possible deal for the right price.
The second category of viewers comprises users that are browsing your website or application and are not sure what they want.
For them, you must upgrade your search and navigation. It will allow users to go to the category they are interested in quickly.
To make your search tab effective, we suggest considering a web/app analysis and a sophisticated algorithm to find out the buying pattern of customers.
By doing this, you get information regarding what customers find more interesting.
After completing this, you can design your navigational tabs effectively so that whenever a viewer types something, your website will show the result closely associated with it.
3. Use Artificial Intelligence
AI has evolved tremendously over the last decade and has now permeated almost every part of our lives.
You can use AI with machine language to create an algorithm that will tell you what features attract the viewer (after going through with his/her past buying records).
Additionally, AI in eCommerce is great for stock keeping, logistics, and even introducing new products. AI gives you a measurable metric by analyzing the vast amount of data.
4. The Personalization of the Home Screen
It is one of the most crucial eCommerce marketing strategies that you can adopt in your website or eCommerce app to attract more viewers.
In this strategy, you can use artificial intelligence including machine learning to analyze the past buying patterns of users.
By analyzing this data, whenever that viewer clicks on your website link or mobile app, the algorithm embedded in your store shows all the products that the user has searched for recently. Besides this, the algorithm presents all reviews which users have purchased lately and asks users to review them.
For example, Amazon is great at offering top-notch experience. It makes users' product finding & buying journey smooth by displaying products in the "related to items you have viewed" tag.
By executing this strategy accurately, you can improve the conversion rate tremendously because you will be providing those products/services to your viewer that interest them (as per their past buying record).
5. Highlight New Products
In an online store, there are many customers who like to know about the latest products and purchase them. Hence, you can present the newest or seasonal products on the respective pages of the store.
Amazon, one of the leading eCommerce marketplace displays the newest product on the homepage.
Here are some of the tips you can consider to attract shoppers by showcasing the featured products.
Include an element of urgency: Indicating to users that the product is available at the best price for a limited time, you can gain their attention.
Add best-selling items on the homepage: Display your popular products with the featured ones to encourage users to check out different products and buy from your store.
6. Provide Advanced Filters
If you have numerous categories in your online store, it may confuse the viewers.
To prevent this, you can integrate different filters so that your viewer can look for only those items in which he/she is interested. You can categorize these items according to their size, color, design, price, etc.
It will affect the user experience. Further, UX will improve the brand loyalty and conversion rate as people looking will get to see only those things that interest them.
7. Use Chatbots Extensively
A Chatbot is one of the best eCommerce strategies for a store as it guides your customers when they are looking for something. An e-retail site is open 24×7, and it requires a dedicated section that will guide the viewer through the contents when they feel any problems.
Therefore, put AI to practical use and build a highly interactive chatbot for your customers.
8. Offer Multiple Payment Offers
You should provide multiple payment options to reach a wider audience. Different customers' needs are different. Therefore, the more choices you offer them, the greater will be their user experience at your store.
The more payment options you have in store, the easier it gets for customers to purchase from your store. Doing this improves conversion rate and also brand loyalty for your online store.
A modern eCommerce CMS supports a vast number of payment gateways. Moreover, you can integrate all of these payment options to offer a variety of options to users and increase revenue.
Here are things you should keep in mind before offering multiple payment options.
Customer Preferences: The new generation of users like to purchase products through different digital wallets. While people in old age like to purchase via debit/credit card.
Security First: Check out the security controls available in payment gateways and ensure they are as per industry standards. Providing secure transactions helps you build trust among users.
9. Optimize Product Descriptions
Various eCommerce businesses neglect product descriptions. Currently, it's quick to copy a product description from the manufacturer and paste it easily. However, you shouldn't do this as it will significantly impact your sales in the future.
Product descriptions allow you to provide details about products in a way by which you can resolve customer questions. Here, you also have an opportunity to integrate your own style of copy and content.
For example, Apple presents details of the product clearly and effectively.
By offering product descriptions based on the potential audience's needs, you will help them to make better buying decisions.
10. Optimize Checkout Process
One of the most necessary eCommerce strategies that most businesses neglect is the optimized checkout process.
Before you have drawn your customer to the checkout process, you have spent a lot of time with them, and you need to hold that trust with customers until they purchase from you.
If your online store has an optimized checkout process, it will help to reduce the cart abandonment rate & enhance the conversion rate.
Firstly, you need to ensure that your shopping cart functionality is quickly navigable. Other than this, ensure that you have a simple yet effective checkout page that explains each step efficiently.
Some of the things you can do to improve the checkout process are as follows:
Display shipping costs.
Show different modes of payment.
Allow customers to shop even after their checkout process.
11. Create Unique Content Consistently
Content marketing is one of the most untapped online marketing strategies. The main reason content marketing is beneficial is that it helps you answer users' questions effectively.
In short, you can offer an invaluable service to your customers with the content marketing strategy.
To execute it properly, you need to understand your target audience deeply. Then consider why your product is beneficial to them and what issue it resolves.
Your content marketing strategy should revolve around audiences' pain points and the overall value you offer to them.
To know your audience thoroughly, you should create a user persona that includes age, job desc, problem, location, etc. Later, you have to create & publish content as per their needs.
One best strategy is to create content such as listicles, how-to, and trends.
12. Provide Exclusive Deals to Existing Customers
According to various studies, getting a new customer is more pricey than retaining the existing one.
To ensure that more & more users become your recurring customers, you need to provide tempting offers & deals as per their interests. Also, according to Microsoft's 2020 retail playbook, 91% love to shop from brands that identify, remember, and offer relevant suggestions.
One of the best examples of this can be Amazon; it shows recommendations based on the user's past search history and purchases.
13. Provide Subscriptions
Utilizing a subscription-based model, you have an outstanding possibility to enhance your business and also generate recurring revenue.
In this model, you send a particular product or item that gets replenished by the customer every month. Also, you can offer unique products that are not available anywhere and customers' needs every month.
A vast number of shopping sites across the globe follow this model. Again one of the simple examples is Amazon, which offers a subscribe and save later option to all users.
To integrate this online eCommerce strategy, check what you can provide to your customers every month. For reference, you can have a look at some examples given below:
If you are selling t-shirts, you can offer a monthly/yearly subscription and provide exclusive deals to the tribe users.
If you are selling flowers, you can provide a monthly or yearly flower delivery subscription.
14. Optimize Store for Voice Search
With the introduction of voice search, people have heavily adopted technology and are using it for more & more tasks. People prefer voice search because they can use it while doing other tasks.
Moreover, various leading brands across the globe have already integrated voice search technology to help users find relevant products in no time.
Also, as per a report, shopping through voice search is anticipated to reach $40 billion by the end of 2022. Therefore, you should consider optimizing your store as per voice search.
To optimize your store to voice search, consider some steps given below:
Organize your content in a question-answer format.
Your main goal should be to display your product in a featured snippet.
Have an organized structure on your website.
Know your potential users in & out.
Submit your products on Google Shopping.
15. Include Reviews & Ratings on Your Store
Reviews & ratings have become an integral part of the product purchase journey. The majority of users consider reviews & ratings of products before making a purchase.
Moreover, they are also considered an effective method to collect feedback. Reviews assist users in finding the pros and cons of a product/service and what needs to be improved.
Also, as per one research, product reviews are highly beneficial in selling expensive products. Therefore, you should definitely consider this eCommerce marketing strategy.
Some of the crucial reasons why you should integrate reviews & ratings on your store are as follows:
Help to enhance visibility on search engines
Improve the decision-making process of users.
Increase conversion rates.
Build trust & credibility for your online store.
16. Create a Loyalty Program
One of the best eCommerce strategies you can apply to keep your customers loyal is by launching a loyalty program that offers different things as follows:
Discounts
Exclusive products & giveaways
Coupons
Early access to new launches, etc.
By building a loyalty program, you will be able to keep your customers hooked to your online store.
17. Enhance Social Media Strategy
The whole world is connected through social media, and therefore, it is one of the best places to advertise your eCommerce store.
Here, you need to ensure that your social media strategy aligns well with the content strategy. After creating content, you should share it on popular social media platforms such as Facebook, Twitter, Instagram, Pinterest, etc.
Here are some of the basic principles you can consider for your social media eCommerce business strategy:
Post regularly.
Use an automated tool to analyze all your posts.
Use attractive images.
Apart from posting content, interact with your users.
Utilize analytics to check overall engagement.
Apply different marketing strategies & then choose the best one for your store.
A social media marketing campaign is essential to move forward in your business. Some of the benefits you get by applying efficient social media marketing include increasing conversion rates, offering better customer support, enhancing brand awareness, etc.
18. Email Marketing & Automation
Email marketing is a popular eCommerce digital marketing strategy that you should use to gain lucrative results. Now, you may have a question, where to find & build email lists.
For the same, you can create a landing page on Facebook and fetch your target audiences' emails. Besides this, you can also collect email via different methods like offering coupons to users who enter their email addresses or using a blog newsletter, etc.
It doesn't matter how many email subscribers you have; you can use your target audience's mails for the following things:
Offer details about upcoming products.
Provide promotions & discounts.
Ask for feedback and review of the product they have recently purchased.
Order confirmation & shipping information.
Send details about best-selling products.
Automating all the things via popular mailing tools like MailChimp or any other helps you reduce a lot of burdens and focus on the most critical tasks.
19. Go for UGC and Influencer Marketing
UGC stands for user-generated content. Whenever a representative not linked to your eCommerce store creates content for your brand, it falls under user-generated content. It is one of the eCommerce marketing strategies to increase brand engagement and conversions.
Usually, UGC content is more appealing to the average customer.
Alongside UGC, you can also do influencer marketing for your online store. Influencer marketing is a type of social media marketing where influencers create content and promote it on social media in exchange for a specific charge.
If your eCommerce store is not very popular, you should consider promoting your product through influencers with fewer followers than celebrities. These influencers are enough to get a specific amount of conversions.
20. Provide Great Delivery Offers
Majority of people across the globe like free shipping. Moreover, shipping cost is the reason various people abandon their shopping cart. According to Baymard Institute, around 69.82% of users abandon their shopping cart.
As per one NRF study, 75% of users choose free shipping in an online purchase and abandon the cart if the cost is more.
If you charge more shipping costs, there is a possibility that you might lose many customers and amount of revenue from them. A better option is to provide free or discounted delivery to the users.
Here are several things you can consider regarding shipping:
Provide free shipping to users who register on your eCommerce store.
Offer free shipping to the users for a specific time and know their response.
Offer free shipping to users when they purchase an item above a certain amount.
Here we conclude some of the best eCommerce strategies that businesses can apply to their eCommerce stores to become successful in the industry.
You don't need to apply all the eCommerce strategies because every store is different. You have to analyze your store well and choose suitable eCommerce strategies for your business.
You need to continuously monitor your eCommerce store, implement strategies that work well and discontinue those that don't yield results. By implementing the right eCommerce marketing strategies, you can reach the audience, increase conversion rates and take your business to a new level.
If you want to implement any of the eCommerce strategies for your store, you can contact us.
Guru TechnoLabs is a leading eCommerce web & app development company. We have created some of the best eCommerce stores for clients across the globe. Hence, we can understand your business well, choose the best strategies, and implement them to grow your business.