How To Make an eCommerce Business Plan for Startup
Last Updated: January 10, 2023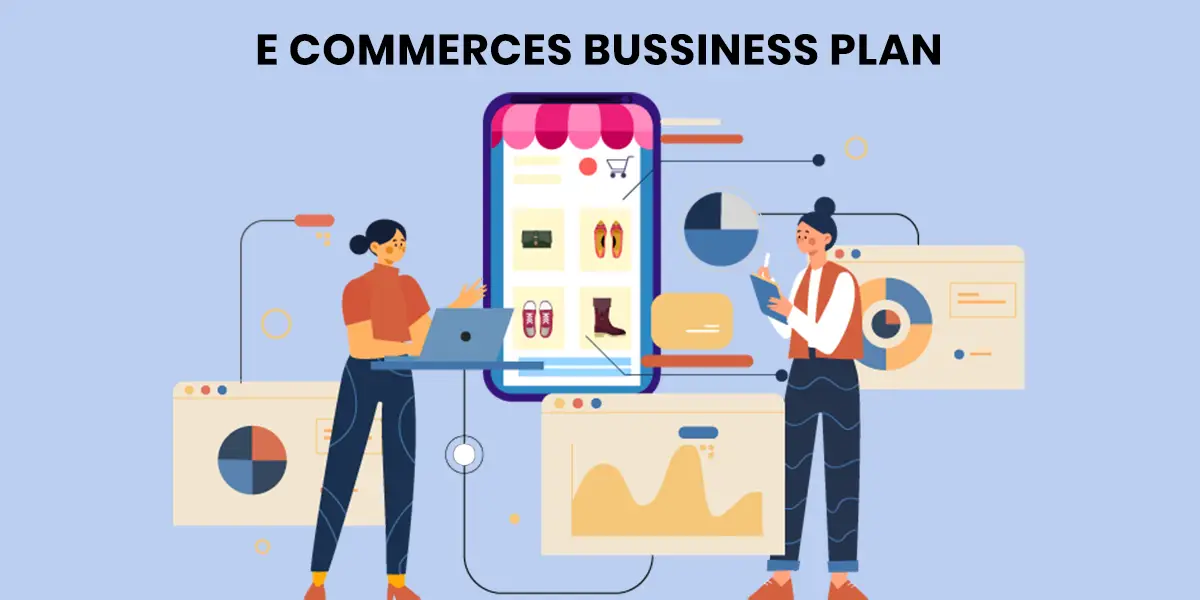 If you have dreams in your eyes and want to create an e-commerce empire, the first thing you will need that puts you on the road to success is a business plan. In this blog, you will learn about all the crucial elements that go into making a successful eCommerce business plan.
The eCommerce business plan is quite distinct from the traditional business plan. To know more about the eCommerce business plan and all the key elements that go into it, read this blog carefully.
What is an eCommerce Business Plan?
The eCommerce business plan allows the businesses to keep their focus on their own set of predefined goals. The entrepreneurs also present it to the investors and lenders. The eCommerce business plan showcases the roadmap that takes your business in a particular direction. It also informs how you are going to achieve those goals. The eCommerce business plan broadly includes projected timelines, blueprints for growth, and financial goals.
The plan also identifies all the possible challenges that your business may face and the contingency strategies you have put in place to face those issues. It also explains in detail various important topics like expenses, cash flow, marketing tools, and distribution channels.
Why Do You Need to Write an eCommerce Business Plan?
Any investor who wants to put his/her hard-earned money into an e-commerce business must know about its future growth potential. The investor should have the requisite information to minutely evaluate the feasibility of the business before putting his/her money into it.
Therefore, eCommerce business plans are also popularly associated with the requirement of getting a loan. However, this is just one of the reasons for making a business plan. Some of the other important reasons to write an e-commerce business plan include the following:
When you write your plan, it allows you to clarify your ideas and understand the scope of your business more deeply. You also get a good estimate of the time, resources, and money that you will need to start your business.
It Helps in Evaluating Ideas
If you have a range of ideas in your mind, then a basic business plan for each one of them will help you to identify the one idea, which has the maximum chance of success. This allows you to focus your time and energy on it.
When you are writing a business plan, then you have to do a lot of research regarding your competitors, your target customers, and so on. This in-depth research helps you to make informed decisions for strategic gains.
When you present your eCommerce business plan, then you share your vision with the potential new employees. It helps to increase their confidence in the venture when you are at the early stages of the growth.
By completing the eCommerce business plan, you have achieved some important goals:
You get in-depth knowledge about various business aspects.
You also get a good idea about the various resources you are going to need to make your business a success.
You also have a clear roadmap about where your business would go.
It also shows the viability of your business idea.
Now that you have understood the reason why creating an eCommerce business plan is so important. The next step is to know about the key elements of your eCommerce business plan.
8 Elements of an eCommerce Business Plan
A comprehensive eCommerce business plan is quite complex. Here are some important elements that go into making a perfect eCommerce business plan.
Drafting an Executive Summary
One of the most important parts of your eCommerce business plan is the executive summary. It is a crucial section of the business plan that you have to write. In the executive summary, you have to squeeze every important thing in your business plan so that you give key information in a concise form to those potential investors and lenders who are highly pressed for time.
A well-written overview of your eCommerce business plan will attract their attention and persuade them to read the plan further in detail.
As a summary, it must highlight crucial points that you have put forth in your business plan and it should not go beyond one page. The business plan summary should include the following:
What does your business do? (Business concept).
What goals have you set for your e-commerce business future (goals and visions)?
What products do you sell and how are they different from your competitors?
Who do you sell to?
How do you plan to connect with your customers?
How much do you earn at present?
What are your expected future earnings?
How much money do you want to expand your eCommerce business?
Who else is involved in your business?
In this section, you should try to answer important questions; who are you, and what are your future goals? You can expand it further by explaining why you are in this business and what makes you different. You should also put forth the reasons that make your eCommerce business a good investment bet.
While writing your company overview, you must include some of the points given below.
Are you a sole proprietorship, limited partnership, general partnership, or incorporated company?
Your industry.
The business model you follow.
What are your business vision and mission statement?
The unique value proposition of your eCommerce business.
The history of your business.
Short-term and long-term business objectives.
The important members of your team.
Your deep understanding of your market is crucial for the success of your eCommerce business. You have to choose the right market (it should be big enough to sustain multiple businesses in your niche and the customers should know about your product). If you make a mistake in choosing the market or enter the market at the wrong time, then you will find yourself struggling to survive.
The market analysis explains how big is the market for your product and the position of your business in the market. Whatever conclusions you draw should be based on research to persuade potential investors to invest in your company by validating your assumptions.
Market Segment
In the market segment, you have to put your ideas on paper in such a way that it shows clarity of purpose. Here you also have to include your niche selection, competitive analysis, and the target market.
1). Niche selection: It gives a bird's eye view of your niche and the reason why you have selected it. It also shows whether you have chosen a micro-niche and its type. This section helps you to analyze your idea in-depth and find whether it is viable.
2). Target market: The target market gives an overview of the market section that you are targeting along with various segments of the market. In this section, you have to find more about your target customers based on the population size, geography, age, income level, ethnicity, education et cetera. You have to research whether your target customers are attracted to your product and are comfortable buying them online.
3). Competitive analysis: In this segment, you have to differentiate various types of competition your business is likely to face, which includes the following:
Whether you have the wherewithal to maximize your profit by selling your products at lower prices compared to your main competitors.
You must provide products and services that offer something more than products in your niche and similar cost segment sold by your competitors.
You have to put your focus on a very small, niche and target customer base to first build traction in the market. Once your brand gets more visibility, then you can move to a broader market.
If you are trying to enter a highly competitive market, then you must provide a list of top companies that you think are your main competitors. After that, you have to explain in your plan how you are going to differentiate your business and products from theirs.
Your Management and Organizational Structure
This section of your eCommerce business plan will inform your potential investors about who is running the company. You must provide detailed information regarding the legal structure of your business.
Furthermore, if you have a management team, then you should provide information about them through an organizational chart that would give a deeper insight into the company's internal structure. This chart should also include roles and areas of responsibility of individuals. Give a brief info about how each person included in this organizational chart is important for the overall success of your start-up.
The Products and Services You Are Selling
The products and services that you sell should be prominently featured in all the crucial areas of your business plan. However, you must provide a section by itself for your products and services in which you can provide key details about them to those who are interested in them. You should mention any new products that you are going to launch in a short time and whether you own any intellectual property.
While writing about it, you must also explain how it will improve the profitability of your business. You must also give information about the sources of your products (whether they are handmade crafts or any trending products that you have sourced for a drop shipping business).
Once you have put forth all the requisite information about your product and services, you can then go to the next segment; the marketing strategy. To grab the attention of your target customer, you have to choose the right marketing channels so that your conversion rate is good. Some of the important marketing channels that you can focus on include the following:
Paid Marketing
Numerous marketing channels come under the paid marketing category; these include the following:
Pay per click.
Affiliate sales network.
Facebook ads.
Influencer marketing.
Organic Marketing
Organic marketing requires more effort and you cannot jump to the front row by paying money but has to continuously offer great content to get more weightage from the Google search engine algorithm. Some of the important organic marketing channels include the following:
Social media.
Search engine optimization (SEO).
Content marketing.
Using a blogger network.
You have to find the right mix of both the paid as well as organic marketing channels based on the customer segment you are targeting and the type of products that you are selling.
Logistics and Operation Plan
The logistics and operation plan that you implement in your e-commerce business will ensure a smooth running. When you write the e-commerce business plan, then this is an important section that you should think about carefully, if you are looking for an investment. When you write the logistics and operation plan, you should include all the parts including:
Where do you buy the raw materials that you need for your production? You can also mention where your products are made?
Do you manufacture, dropship, or wholesale your products? How much time does it take to make your products and ship them to your warehouse? How do you meet the challenge of a busy session or a sudden spike in demand?
Do you have any physical retail space where your team members work?
What equipment and technology do you use to set up your e-commerce business? It should include everything like computers, tests, light bulbs et cetera.
How much inventory do you keep in hand and where do you store it? How do you conduct inventory management?
Do you handle all fulfillment tasks in-house or have you hired the services of a third-party fulfillment partner?
This section will inform your potential investors regarding your supply chain and the type of contingency plans you have in place to deal with any uncertainty.
The success and failure of your eCommerce business are directly linked to its financial health. Any investor who wants to invest in your enterprise will carefully analyze the viability of your business for the foreseeable future. In your eCommerce business plan, when you are writing about your financial plan, then you have to include three major views related to your financials; your income statement, your Balance sheet, and the cash flow statement. You can also include financial data and projections with it.
Income Statement
This document gives the reader of your eCommerce business plan a detailed look at your revenue sources and expenses over one year. This will give them a good understanding of the actual profit or loss that your business has experienced during the financial year. If you have just started your business, then you can project future goals using similar information.
Balance Sheet
Your Balance sheet shows your equity in your business. On the left side of the balance sheet, you have the liabilities and on the right side, you have your assets. This gives a snapshot of the shareholder equity.
Assets-Liabilities= Equity
Cash Flow Statement
The cash flow statement is similar to the income statement. Still, with one significant difference, the revenues are taken into account only when they are collected and the expenses when they are paid (outstanding revenue and expenses are not included). The cash flow statement shows whether you are cash surplus or low on cash and need some funding to ensure that your business stays solvent.
When you write a comprehensive eCommerce business plan, it helps you improve your understanding of your own business in the market you are operating. It helps you look for emerging opportunities and threats to your business. A well-researched and detailed eCommerce business plan will help you clarify your idea to potential investors. Hence, they can know your business and provide the fund to expand your business even further.
If you still have any doubts about creating an eCommerce business plan, don't hesitate to contact us.
Guru TechnoLabs provides eCommerce development services for web and apps. We also have a talented team of professionals that have delivered eCommerce solutions to businesses & startups. Hence, we can understand your business plan and provide a suitable solution.