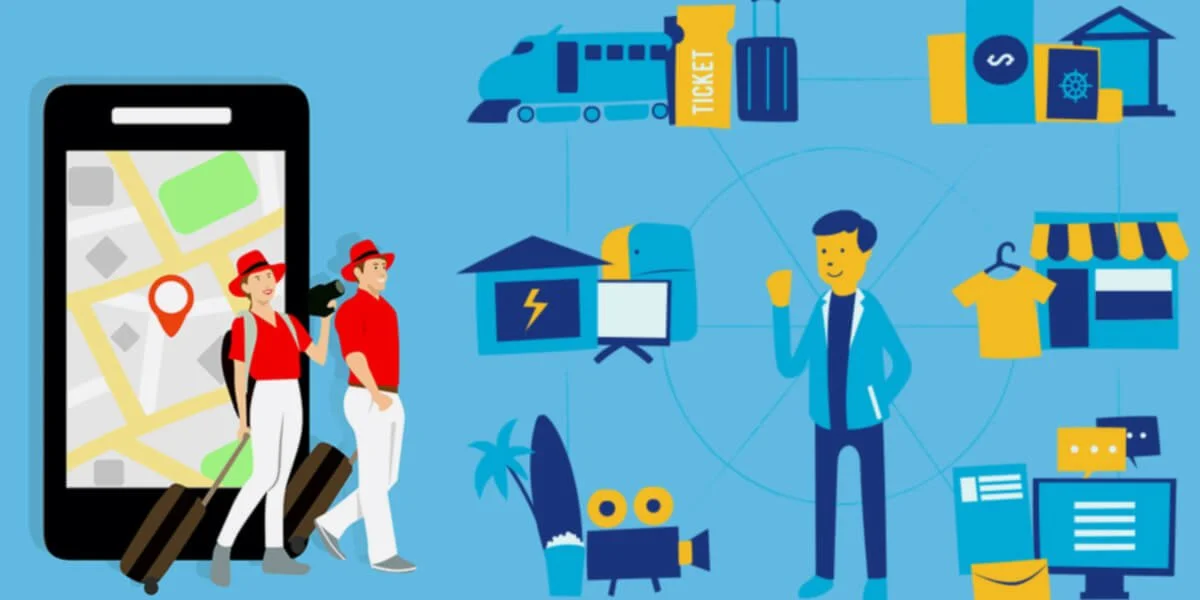 What are the advantages of tourism app to Travel industries?
In today's digitized world travel and tourism sectors are also upgrading their business with latest digital technology. The Travel and Tourism have grown by leaps and bounds in the past few decades. This increase has been brought by various factors, the most important one is digitization. Digitization has delivered new level of travel experience.
This is not just for the purpose of traveling for holidays but also for business tourism. It is become much easier with the use of the various mobile apps of tourism that allows the user to prepare everything before he/she arrives at the destination.
This ease of traveling has enhanced the inflow of tourists and travelers. According to a survey conducted by eMarketer, tourism appwas listed among the top 10 most downloaded mobile apps across the world.
According to recent survey tourism has been greatly increased in the last 1 decade and with increasing technology and awareness,70% of tourist are using mobile app for travelling and bookings.
The market for tourism app development is growing with every passing year with the implementation of new trends and features. New features are being launched with the use of latest IoT Technology , VR TechnologyAR Technologyand GPS devices to give the best experience to the users. These mobile apps have made traveling much more carefree and safer than it was ever before.
In case you are looking into the possibility of developing a Tourism App then you need to explore the field and check the various features that make your app user friendly.
Let us look at some of the most common features of a tourism mobile app.
Most tourism apps offer details of the tourist locations which include a detailed write-up about the locality along with details of the weather, people, tourist attractions and the best time to visit. Numerous photos of the landscapes, market, monuments and the people are available. This feature actually helps the user to guide about his/her plans of choosing the best location. Hence it is a good idea to have a good store of images to showcase the location.
Once the destination has been decided the user will look for bookings, their travel tickets and accommodation for the location. The user has an option to select his/her mode of transport,is it flight, buses, trains or other passenger vehicles. As technology is upgrading so it allows user to pay the charge using integrate payment methods in application. This feature also allows you to book your accommodation from a list of the hotels, resorts, and home stays. So that you can easily book it as per your budget and needs. One important thing about mobile app booking feature is, it must be very easy to use. If users will find it difficult to use, then you won't get bookings instead your app will be uninstalled.
This feature uses the GPS tracker to keep a track of location of bus or train allowing the users to know exactly, how far they are from their destination. This feature is also helpful in keeping track of the traffic to check how long it will take to reach the pickup point. Moreover, live tracking is particularly helpful for parents to keep a track on the vehicle if their children are traveling.
Carrying cash while traveling may not always be a good idea considering the exchange hassle and of course possibility of theft or losing the luggage or wallet. The additional feature facilitating payments digitally allows for an easy mode of transaction and ensures a safe travel. Users can shop and make their payment using digital modes of payment they can make payments for reservations of hotels and travels online.
Tourists prefer to pay online. So, if your mobile app having feature of online payment it will give rich experience to your customers. Online payment is not only time saving, but it's also very secure.
The biggest question in this digitize world is of security for online transaction but, today's technology has removed this fear from everyone's mind as all the mobile app development companies are using encryption technology for encrypting information. So, it cannot be used by anyone.
This is a new trend that is catching on,it allows the traveler to share plans of travel with another traveler having similar travel interest. This not only provides the traveler a travel buddy but also allows sharing the travel cost making it a much economic way to travel. This feature can also connect the traveler with the local users of the app so that they can have an enhanced experience of the visit. This feature also allows the user to connect with friends and view suggestions from other users.
There is great potential for the tourism app industry to grow further and generate revenue. To be able to develop a good travel app a detailed research is must. More concentration needs to be given on the features that you want to add to your travel app and monetization methods that you can keep in mind while considering the tourism mobile app development.
When tourists book their tickets they are also worried about weather of particular place. So if you provide real time weather feature that will become biggest plus point of your tourism app.
An app can make your business available to your client for 24X7. There is no requirement of you to be available all the time if you are using a tourism app or travel app for your business. A customer can go to your app at any time and check out all the details of the tour and plan a tour as per their convenient time.
The main benefit of an app is that people can review and book their tour even if your business is closed in non-working hours.
Whenever a tourist planning any trip, they like to see insights of those places. With the help of destination photos and video. This helps tourists to take decision about their trips more clearly.
Mobile apps with high-quality photos and videos is the first attraction of any travel or tourism app for rich experience.
Revolutionary Global Trends for Enterprise Mobility Solutions
Key Points of Tourism App
The best way to understand the requirements is to use a tourism app yourself as a tourist and finding out what are the missing features in the app? The features that will make your experience rich if added with a goal.
The travel/tourism app should allow all bookings pertaining to the travel. Say for an example it should provide reservation of a hotel or resort, dinner, lunch etc. The app should provide access to all the various aspects of a travel and vacation.
Developing a tourism app is not enough. You need to make your app successful to get best return on your investment.
Most tourism apps have the feature to check the locations which are mostly searched by users. This can be taken as an advantage, by providing suggestion about the best deals and locations to visit to the prospective user of the app.
A tourism mobile app needs to make its online presence strong and appealing so that more tourists can be attracted. It will increase your app download in an exponential way. Advertising is a key aspect of introducing a new app in the market.
In this age of social media, people cannot stay without sharing all the latest experiences with friends and family. It is important that the tourism app also allows the user to share all experiences, photos, and reviews online in all social media. This feature will make the app much popular and would be used widely.
App manager must take care about Compatibility, data security and other important features of the app. The app should be compatible with operating systems that are prevalent in the market now and provide unparalleled security to the data that is saved by the users, especially data pertaining to monetary transactions. Else it would not be much popular amongst the masses.
With the growing travel app market, you can plan & invest in tourism app development to increase your travel business worldwide.
In the year 2017, the international tourist arrivals worldwide were 1.32 billion which was an increase of 6.8% as compared to that in 2016. This number is in addition to 1.03 billion in domestic tourism in the year 2017. It is a huge leap from the 2.5 million domestic tourists in 2000 and 7.5 million in international tourist arrivals worldwide. Of these new travelers, about 85% use tourism app to plan out their bookings.
So, we have seen that the tourism is increasing tremendously worldwide. Tourists are also loving and demanding advance technology. A travel agency must need a mobile app if it wants to stay in this competitive market. Either they should hire in-house staff for tourism app design, development and marketing or hire a mobile app development company with similar experience to make their app successful on the internet. We-Guru Technolabs, provide FREE CONSULTATION on tourism app ideas or business problems that you wish to solve digitally.We are building next generation digital solutions in web, mobile apps and digital marketing.
Let's Discuss!
Tell us your idea or concerns, We will get back to you with a solution.
All projects secured by NDA