Web App vs Desktop App: What's the Difference Between Them?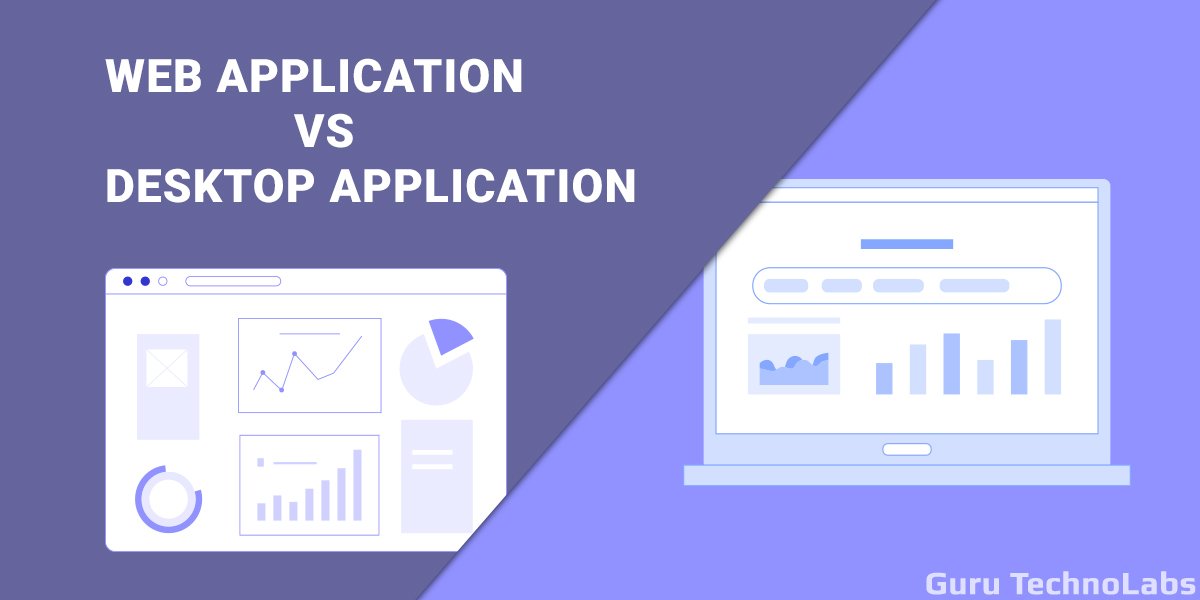 The world is growing at a tremendous rate every year. New technologies and tools are being introduced over the web.
Computers have become a great tool to carry out business as well as personal tasks. Also, smartphones have become a handy device to carry out various daily activities immediately.
Businesses worldwide have understood the importance of the digital world and have started launching web apps, desktop apps, mobile apps, and more. However, for the purpose of this blog, we will focus on web apps and desktop apps.
Over the past decade, there is a constant debate about web apps and desktop apps. Moreover, various startups and businesses worldwide are unable to decide which is suitable for their business.
Also, our readers are asking us questions like, what is the difference between web application and desktop application? How is a web app different from a desktop application?
Therefore, in this blog, we will walk you through the difference between a web app and desktop app. But, before that, let's go through the basics:
What is a Web Application?
A web application is a software that runs on the web browser and utilizes web technology to carry out different tasks on the web. Some of the most common examples of web apps include file scanning, file conversion, file editing, etc.
There are many kinds of web applications. To know in detail, refer to our quick guide on types of web applications.
What is a Desktop Application?
A standalone application you can install on a computer (PC or Mac) to carry out a specific task is a desktop application. Examples of this can be PDF software like Adobe Acrobat or multimedia software like VLC.
Here we will walk you through a detailed comparison between the web application and a desktop application.
How is a Web App Different from a Desktop Application?

Let us compare the essential factors of a web app and desktop app.
Most web apps are heavily dependent on the internet. This is because the web app's main framework relies on the internet connection. Besides this, many areas in the world don't have a good internet connection, due to which people face connectivity issues. For example, if you are using a YouTube Web app, you require a good internet connection to watch a video.
Desktop apps are standalone apps; hence, they don't require an internet connection. However, you only need an internet connection if your desktop app works with a server. For example, you don't require an internet connection to work on a Microsoft Presentation. But, you have to connect with the internet to upload the PPT on the drive.
Web apps don't require any installation and updates. You can access them from the URL. However, you have an option to install them on your device. By installing a web app, you don't have to open the browser and access it easily. Progressive web apps are the best examples for the same.
On the contrary, you need to compulsory install a desktop application before using it. You can't just download and load it from the computer to use it. Moreover, a desktop app provides you a notification about any updates. Hence, if you have to access new features, you have to download and install the software manually.
Now moving forward with the web vs desktop app debate, the ability of both to utilize OS features is highly crucial.
Web apps operate in a browser, and that's why they have limited access to various OS features and functionalities.
However, desktop apps can access various OS features like the fingerprint reader, facial recognition, file management, etc.
Because desktop apps are built for a specific OS, they can utilize all the device capabilities.
Do Web Apps Require More Resources than Desktop Apps?
A web app requires minimum power as compared to a desktop application. You can open your web app in multiple tabs in a browser, but it requires less processing power than a desktop app. Also, many people don't possess a desktop, and at that time, they can access the web app from any device through a browser.
A desktop app can access various computer resources. However, the utilization of computer resources relies on the complexity of a desktop app. For example, a complex desktop app requires heavy computational power as compared to a simple desktop app.
Portability means an ability of an application to be accessed from multiple devices.
A web app is highly portable as all the things get stored on the cloud. Hence, you can access all of your data without any need for synchronization. The only requirement is a stable internet connection.
A desktop app is not portable because it is OS-specific. Hence, you can access things from a specific computer only.
Web applications are platform-independent. They function similarly on many devices such as Windows, Linux, Mac, Android, iPhone, etc. The only thing required to ensure that your web app runs smoothly is a stable internet connection. Also, you require a web browser to run a web application.
Desktop applications are platform-dependent. Here, you need to install a specific version to operate on each operating system.
Are Desktop Apps more Secure than Web Apps?
Security is one of the biggest concerns in the internet world. Let us look after desktop application vs web application based on security.
Whenever you are using a web application, you are providing your data to the specific company. Your data gets stored on a web server. Hence, there are chances of security threats because you don't know what kind of security measures they are taking. Moreover, you have to be extremely careful while offering sensitive data as the web servers are prone to attacks from hackers. To know more about web application security, you can read our blog post on web app Vulnerabilities and Best Practices.
The majority of the desktop applications work offline, and therefore these apps are not prone to any attacks. If you are working on sensitive data while using the internet, you can unplug the LAN or switch off the WiFi or Internet connection to protect the data.
Lastly, we can clearly say that desktop apps offer better security as compared to web apps.
Performance: Both are Good but Desktop App is Better
Web applications offer good performance. However, they can't deliver top-notch performance as they rely on the browser and its capabilities.
Desktop applications offer an optimum performance as compared to web applications. Firstly, they don't usually require an internet connection. Secondly, desktop applications utilize the memory & processing power of the local device to deliver enhanced performance.
Moreover, there are exceptions where both web apps and desktop apps offer good performance.
Development Cost: Which is Cost-Effective?
The cost of developing a web app or a desktop app depends on the complexity. Besides this, it also depends on the development agency's location.
Generally, the web app development cost is low because a web app isn't able to access all the device capabilities and relies more on a browser.
On the contrary, the desktop app development cost is higher because one has to create different versions for different operating systems. Also, you need to invest in the licensing fee for each operating system.
However, from the long-term perspective, the development cost of a desktop app would be worth it.
Hosting is a web server where all the files of a website are stored.
If you plan to develop a web app, you have to purchase hosting and renew it annually. The cost of hosting depends on the requirements of the web app. Hence, this is an additional cost for a web application.
If you plan to develop a desktop app, you wouldn't require expensive hosting. You indeed need to build a website to promote your desktop app and then purchase hosting, but it is way less than a web app.
Web Application vs Desktop Application: Quick Overview
Let's go through the quick overview of desktop vs web application.
| Factors | Web App | Desktop App |
| --- | --- | --- |
| Internet Connection | Needed | Not Needed |
| Installation & Updates | Automatic | Manual |
| Accessibility | Cross-Platform | OS-Specific |
| OS Features | Restricted OS Features | Can Access All Features |
| Computer Resources | Utilizes less computer resources | Can utilize computer resources as per need |
| Performance | Good | Better |
| Platform Dependency | No | Yes |
| Security | Less secure | Highly Secure |
After knowing how web apps are different from desktop apps, if you want to develop a web app, then reach out to us. We have been delivering web app development services to businesses globally.
We hope that you have understood the difference between web app vs desktop app.
End-users generally don't care whether your app is native, web, or desktop; they only want their task to get completed efficiently.
From the comparison, you must have understood that every application has its own pros and cons, and they can be utilized for a specific niche.
For developing any app, you can get in touch with us by filling the form given below. We will understand your idea and get back to you.