Top Front-End Frameworks in 2021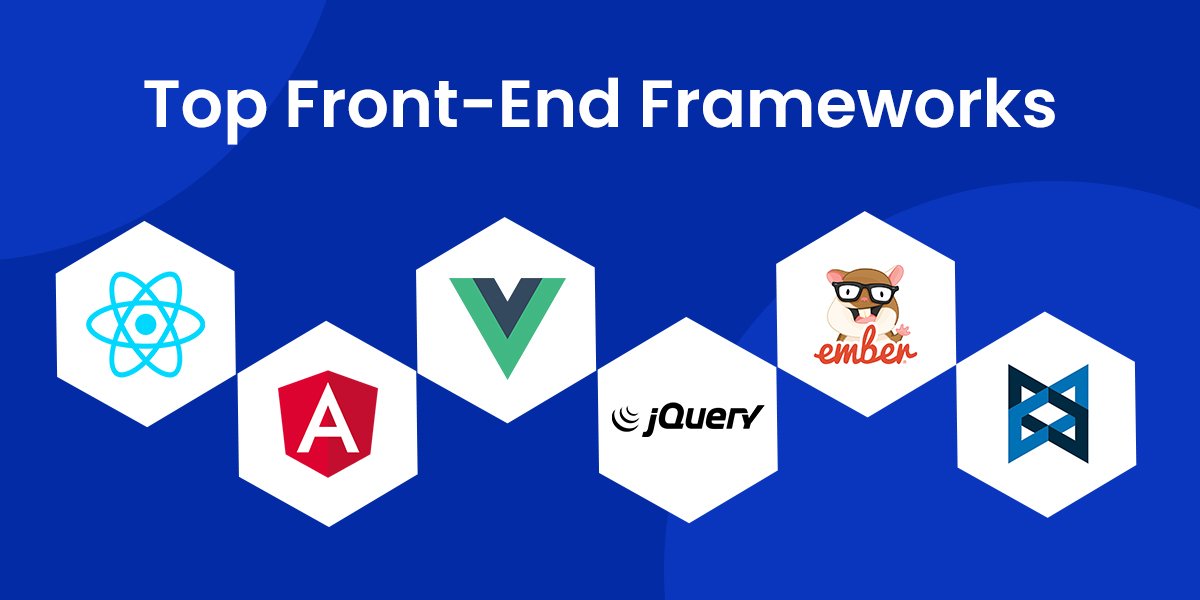 A front-end framework is mainly a group of tools & libraries that allows facilitating and speeding up the development process of a project. While using a vanilla code, you might have come across various issues of lack of modularity, highly-complex-code, and have to spend enough time to develop basic functionality.
All these issues can be resolved with the help of Front-end frameworks. They emphasize more on component-driven development and make it easy for you to maintain the code, enhance code organization, allow code reusability, and implement good design patterns.
As per one survey of stack overflow of the year 2019, the majority of developers who are not working on any technology but prefer developing web apps using react.js, vue.js, and angular.js.
The above image represents the list of top front-end frameworks among the developer's community.
Apart from this, the State of JavaScript conducted an annual survey that records the opinions of more than 21,000 developers across the globe. Let's have a look at the popular web frameworks as well as the libraries in 2020 as per the survey.
The above image clearly indicates that react is being widely popular among the developer community. Vue.js has crossed the Angular to become the 2nd most popular framework among the developers globally.
Angular still ranks at position three means that it is still popular among developers across the globe.
With new front-end technologies releasing every year, it has become challenging for startups, SMEs & businesses to select the best framework for their project.
Before starting any project, you should be familiar with different kinds of frameworks available for web and mobile app development.
Because, the framework you choose will have a great impact on the overall development of the project. Hence, you should have clear understanding about the front-end/backend frameworks as well as cross-platform app frameworks.
To simplify your task, in this blog, we will provide the list of most popular front-end frameworks that you can use to develop excellent web & mobile applications.
What are the best front-end frameworks as per the popularity?
Front-end frameworks popularity is increasing demand among the developer's community. You should not choose a front-end framework considering its popularity but based on the requirements of your development project.
However, one is always curious to know how different frameworks rank in the case of stars/ trends. The following list shows the best front-end frameworks popularity at the time of writing this article:
React: 144,119
Angular: 58,061
Angular.js: 59,639
Vue.js: 157,294
jQuery: 52,968
Ember.js: 21,393
Backbone.js: 27,619
Now, let's check the popularity of frameworks as per the Google Trends:
Above image clearly indicates that react is the most widespread framework in the world.
As of now, Front-end frameworks popularity is going to increase, and more developers are looking forward to utilizing the best frameworks available in the market.
Out of various frameworks, react, angular, and vue.js have gained a lot of popularity. Moreover, all these frameworks are backed up by a massive community of developers worldwide.
If you are looking forward to professional web app development services for your project, then you can hire front-end developers from Guru Technolabs.
We have experience in developing high-end web and mobile apps and ensures to provide you the best service as per the requirement of your project.