13 Mobile Commerce Trends To Consider In 2023 & Beyond
Last Updated: January 6, 2023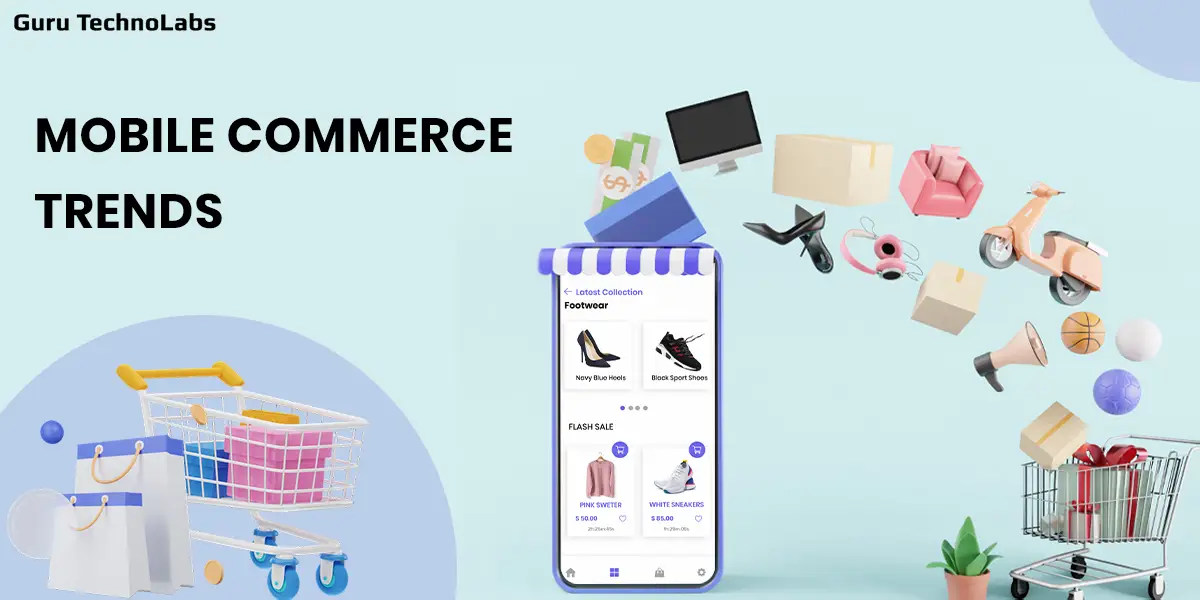 Mobile commerce has grown at an unbelievable rate in the past few years. This growth has been fueled by the increased penetration of internet services and a massive jump in smartphone sales.
Mobile Commerce can be explained as doing financial transactions using mobile phones or tablets. The financial transactions could include services like online sales and purchases of products, online transactions, bill payments, and online banking.
Whether you own a Shopify store or any other eCommerce platform, there would be a massive percentage of users buying through mobile phones. Therefore, it is essential to remain updated with the latest trends in mCommerce to provide a better user experience.
We have done the necessary research and found some of the latest mobile commerce trends.
Before we move on with the trends, we will walk you through the most recent m-commerce statistics:
As per Statista, the global mCommerce market revenue is expected to reach $710.42 billion by 2025
Smartphone users worldwide were 6,259 million in 2021 and are expected to reach 7,690 million in 2026.
Based on GMInsights, mobile wallet market revenue will grow with a 15% CAGR (Compound Annual Growth Rate) between 2019-25 and is expected to reach 270 billion by 2025.
From the above statistics, we can say that the future of mobile commerce is outstanding.
As an eCommerce store owner, it is time to focus on mCommerce to reach a wider audience and generate high revenue.
But, before you think of mCommerce for your business, it is essential to consider the popular mobile commerce trends.
There are various m-commerce trends adopted by online stores worldwide. Here have curated the list of most popular mobile commerce trends.
Let us look at these m-commerce trends in detail.
Site-search has become one of the essential parts of the eCommerce website for the last few years; however, now it plays a crucial role in mobile commerce.
On mobile devices, navigation is one of the most challenging things compared to the desktop because users do not like to navigate much and instead use a search bar.
Therefore, with site-search, you can provide an exceptional browsing experience.
Besides browsing, site search improves all the other things further down the line.
2. Enhanced Page Load Speed
According to one research done by Google, 53% of mobile users abandon a site if it takes more than 3 seconds.
Currently, consumers install around 2-3 shopping apps on their devices; hence, they may switch to another site or a mobile app if they face speed issues.
From this, we can say that page load speed is one of the most critical trends that might hinder the growth of mobile commerce.
To provide the best user experience, ensure that all the pages are completely optimized and load at an efficient speed.
Moreover, 5G technology is around the corner, and consumers expect an enhanced mobile commerce experience; hence, you should also consider that.
Live shopping experience is likely to be the next big thing in mobile commerce. Here, retailers and online shoppers come together on social media for live events.
In live experience, you can show product demos, organize Q & A, provide the option to buy instantly, and give live-only discounts.
This type of live shopping is extremely popular with the younger generation who regularly use their smartphones to buy products on their smartphone.
The most basic use of a smartphone is communication. Besides this, people use various apps like WhatsApp, Facebook, Telegram, etc., for communication with friends, family members, etc.
Likewise, businesses have understood that communication with customers about their products/ services is essential.
Due to this, various brands worldwide have started adopting chatbots that interact with users efficiently.
Also, as per Servion, 95% of communication will be powered by AI Chatbots by the end of 2025.
Here is the list of benefits you will get by integrating Chatbots in your store:
Handle multiple customers parallelly; this will help to increase customer engagement.
It allows you to do an improved analysis of the customers by fetching information from the conversation and transferring it to the sales team. Here, you can provide personalized options to the users and increase customer engagement.
Chatbots are highly beneficial for customers as they track orders, ask for recommendations, and get all the details in one place.
Lastly, if you want to take customer experience to the next level and make the most of your mobile commerce store, you should include AI chatbots. To know in detail how AI can transform the entire eCommerce industry, check AI in eCommerce.
The new form of one-click ordering in the mCommerce shopping cart is replacing the current cart system.
In this method, your customer can include information in their one-click setting like their bank details, shipping addresses, email, etc.
Once they click on a particular product displayed in your online store to buy, then the algorithm within the app will automatically use the saved setting data and connect with their bank account.
Once they make the payment, the product will be shipped to the saved address in their one-click setting. The user will instantly get an order confirmation email in the email address stored in the one-click setting.
The entire process will eliminate the problem of cart abandonment and increase your sales significantly.
If you want to retain customers for a long time, personalized marketing can help you.
Research has shown that many customers want to buy a product from a brand that offers a highly customized experience.
Customers prefer such an experience because it gives them a higher level of satisfaction. You will also find that more and more brands use personalization to consider behavioral segmentation of customers and push notifications to send the right message at the right time.
In this process, you can record the website browsing behavior of your customers to get contextual data like their location to develop a unique message for individual buyers. Such data-driven personalized communication ensures that each customer gets relevant information at the right time, which will improve your sales conversion.
Social commerce is referred to as the procedure of direct selling of products/services on popular social media platforms such as Facebook, Twitter, Instagram, etc.
In this end-to-end shopping experience, the shopper can start the journey with product discovery, then product research, and easy checkout.
Thanks to the great reach of social media, social commerce has grown into a massive $585 billion in 2021 and is expected to grow much more in the coming years.
With the launch of Instagram shopping a few years back, the mCommerce industry has started utilizing social commerce and generated sufficient revenue.
On the other side, people search for products on social media, particularly on mobile devices.
Here, it doesn't matter whether consumers obtain a product link from Instagram or any social media feed; they only want quick product purchases and relevant information.
8. Use Product Tagging to Improve Customer Engagement
If you have many products in your m-commerce inventory list, sometimes it becomes harder for your customer to find the desired product.
To overcome this challenge, mobile app developers use the tagging method with keywords for select products so that people can easily find them through the search button.
Tagging is one of the most critical elements that can help the customer to search for a product in your store. If you want your customers to find the item of their choice without any hassle, you can adopt this method.
It will improve your ROI considerably and help you retain the existing customer base through an improved buying experience.
Augmented reality has an immense potential to make the shopping experience real for the customers and profitable for mCommerce providers.
In short, it has the potential to take the future of mobile commerce to a new level.
The fantastic progress of augmented reality in eCommerce apps has enabled mobile commerce app developers to introduce specific buying experiences, which are as follows.
a) AR is rapidly obliterating the distinction between mobile commerce and mortar stores through real-life experience that enhances the buyer's online shopping experience.
b) AR allows the consumers to use the product virtually they want to buy and see how good it would look in real life before they decide whether to buy it.
For example, if you are selling paints through your mobile app, you can add a feature that allows the customer to take photos of all the walls of their room and apply the paints available in your online store virtually to see how they look in real life. It will allow them to have more informed decision-making capabilities.
c) AR allows you to provide your consumer with a more immersive m-commerce store experience.
AR can use 3D imaging technology to ensure that the individual using your app will feel like he is in a real store (the only thing missing will be the tactile experience).
d) Being an online store owner, you can add AR to your mCommerce app to have an effective advertising campaign to attract more traffic to your website.
Even though many people are not familiar with cryptocurrencies and blockchain technology, there is a sudden increase in the adoption of crypto wallets across the globe.
As per Statista, the number of people who use Blockchain wallets has reached 82.22 million. People are shifting towards cryptocurrency payments as they offer enhanced security and transparency.
Various brands and businesses worldwide have integrated blockchain wallets, and in the next few years, it will be one of the popular mobile commerce trends.
Some of the benefits of incorporating crypto payments into your store:
Quick transactions.
Reduced Transaction Cost.
Enhanced Security.
Anonymous transactions, etc.
Over the years, there has been a sudden increase in the usage of popular voice assistant devices such as Google Home, Alexa, Siri, etc. People across the globe perform a search with voice commands and purchase various products on the go.
Voice commands are helpful for people who use their smartphones to buy products. Many people find it harder to type something on their small screen, and in such a situation, voice commands are helpful to get information.
As per one forecast, the voice assistant-based online transaction value will reach $19.4 billion by 2023.
In short, businesses would integrate voice commands in their mCommerce apps and mCommerce stores to target all such users and generate more revenue.
Mobile payment is increasingly being used by buyers for purchasing goods online.
One of the forecasts by the PoS payment suggests that by 2026, this market will grow to $5.29 trillion. The popularity of mobile payment is due to its simplicity, the high rate of security it provides, and transparency.
Some of the well-known mobile payments worldwide are as follows:
Apple Pay
Google Pay
Paypal
Cash App
Venmo
Zelle
There are several types of mobile payment solutions that are available in the market, which gives the customers a wide choice appropriate for their requirements. Some of these mobile payment solutions include mobile wallets, direct mobile billing, and mobile web-based payment.
The progressive web apps are another essential trend in mCommerce. The popularity of progressive web apps for mCommerce is due to the fact that they are offline-ready. Therefore, in case the internet breaks down, the shopper can continue with the shopping, unlike the native app.
The PWAs are super responsive. Hence, it makes the shopping experience awesome. Furthermore, you do not have to update them as they can do it automatically. These apps can work effortlessly on both iOS and Android platforms. PWAs are the perfect solution for the mCommerce experience.
From the above points, it is clear that mobile commerce is here to stay. Moreover, as we have discussed, mCommerce offers many benefits to retail businesses. Due to this, many companies are taking their business online by launching a mCommerce app.
Moreover, in the future of mobile commerce, we are about to see the integration of various new technologies.
If you are also planning to enter the retail industry by launching a mCommerce app, do not hesitate to contact us.
Guru TechnoLabs is the leading eCommerce app development company. We have developed excellent mCommerce apps for clients across the globe. Hence, we can understand your business well and provide you with an innovative mCommerce app.