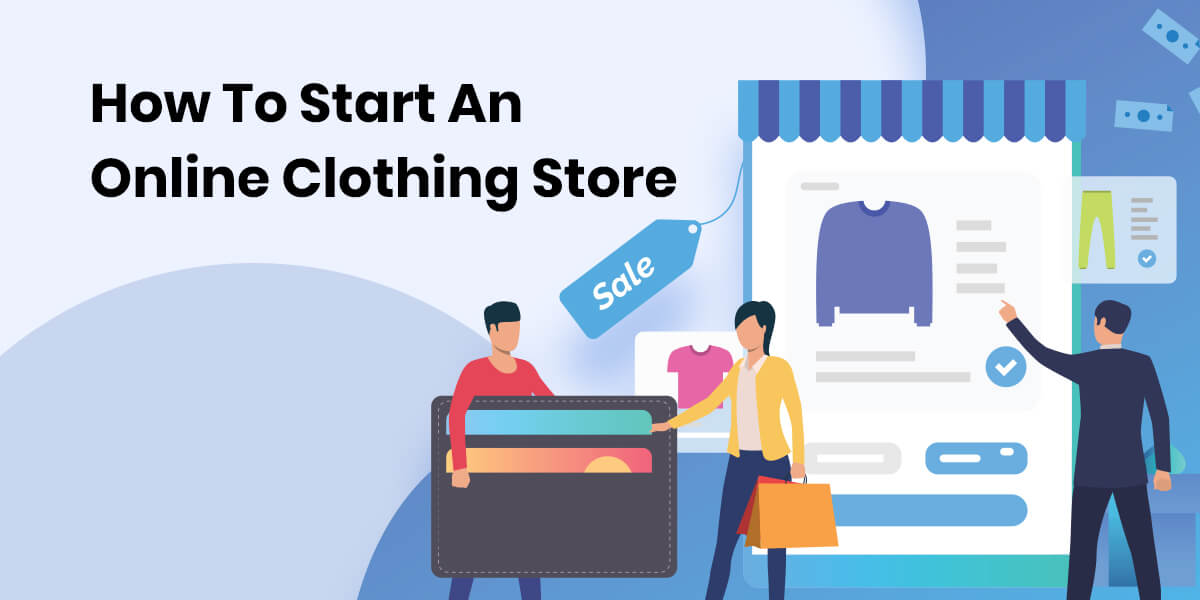 How to start an online clothing store
Why go to a departmental store to shop for various products when you can get them delivered right at your doorstep. Since it's evolution, eCommerce business is one of the fastest-growing industries today. The main reason behind the increasing trend of eCommerce industry is because it is available 24/7 & 365 days a year. Thus, customers can shop their favourite products anytime, anywhere. For the last decade, a lot of business organisations have shifted their business online than running it conventionally.
According to a recent study, the eCommerce market will have an estimated 1.92 billion global digital buyers in 2019. In fact, the global population is estimated at 7.7 billion people today. That means, 25% of the worldwide population is addicted to shopping via eCommerce websites. If you talk about money, then it is examined that in 2019, the eCommerce sales are expected to account for 13.7 percent of retail sales website. In such situations, startups have a golden opportunity to start an online clothing store or an eCommerce business.
Technology has played a special role in the success of an eCommerce business. Noticing the increasing demand for eCommerce business, most of the companies are moving to the eCommerce store. According to a report, more than 75% of the users over the internet are using eCommerce website to buy stuff. Based on these data, we can assume that the eCommerce industry will expand in the upcoming years.
Amazon, Flipkart, Aliexpress, etc. are some of the popular eCommerce platforms today. In order to attract more and more customers to their platforms, these eCommerce Giants provide attractive deals and discounts on various products and services. This helps them in gaining a lot of new customers to their business. In the success of eCommerce business, the clothing and fashion industry has played a vital role in the same. As its target audience is fixed, you just have to mold your marketing strategy and leave rest your eCommerce platform.
8 steps to start an online clothing store without investing a lot
1. Choose Your Online Clothing Store Niche
Before you figure out what type of products you will sell in your online store, the first thing you need to do is decide which clothing and apparel you want to sell. This process will help you in choosing the products and design your whole business plan around the type of target audience you want to attract and ensure you can start your business uniquely. LookHuman is one of the best examples which suit the current discussion.
The niche they have chosen is Pop Culture. In order to feed the pop culture, they used bold humour which appeals to what pop culture refers to humor. Their target audiences were also impressed with this unique strategy. They choose stylish hoodies, socks, and tees by ditching branded products. Getting inspired from this, you can also design your marketing strategy in such a way that you do not have to work hard to kick-start your online clothing store.
Below are some of the points which help you in choosing the niche for your online clothing store:
1. Try being unique and stand out from the crowd
2. Choose a niche in which you are passionate about
3. Ensure it has an excellent earning potential
2. Choose your products wisely
When you have a niche, it's an incredible chance to pick your things. Will you undercut sleeve shirts or dresses? The clothing and attire business area is for all intents and purposes perpetual, and you can make sure there are a ton of decisions inside the claim to fame you're selling in.
In any case, on the off chance that you're attracted to rebound in and sell everything, this could be your death before you've even started. When you're starting an online store, it's continually urged to start off nearly nothing and moderate and after that branch out your lines as you create.
There will always be something you can do to improve your online clothing store, so be assured you understand what you're getting into. This is the thing that it takes after externally: you're induced, the creative energies are flowing, you're drawing without end into the early morning, playing with models and joining tints. Exquisite.
Remember, a clothing line isn't just an inventive outlet; it includes a great deal of work and a ton of risks and prizes. There's a perpetual arrangement for the afternoon; here are just a segment of the segments:
Coming up with a new design
Planning a business strategy
Dealing with technical issues
Promoting your products on social media
Responding to customers' emails to gain their trust
4. Come out with the best business model for your Online Clothing Store
Since you know your claim to fame and have an idea of the sorts of things you have to offer, it's an extraordinary chance to pick a strategy for your online clothing store business. There are four sorts of policies that web clothing and apparel stores fall into:
Print-on-demand
Custom cut-and-sew
Private label
Redistributing
Each game plan has its very own upsides, and drawbacks and picking between them should be established on your general objective, spending plan, and capacities.
We should look at all of even more eagerly.
1. Print-on-Demand Clothing Store Business Model
Print-on-demand is the least requesting sort of online clothing game plan similarly as the most affordable. Without a doubt, custom shirt printing alone is depended upon to reach $10 billion in arrangements by 2025.
Are you planning to start an online print-on-demand clothing business?
These are the sorts of stores where you print your logo and structure onto the transparent dress, and everything is modernized.
There is an adequate arrangement in sorts and tints inside this business type, and it's your most useful elective when overseeing little amounts of solicitations.
An authentic instance of an association that works environments this is Printful, which has formed into a super print-on-demand brand, moving a collection of new things and organizations this year including activewear and warehousing and fulfillment.
2. Private Label Clothing Store Business Model
Private imprint strategies are fundamentally the middle point between print-on-solicitation and cut-and-sew. They give more customization than the past anyway less 'work' and required spending plan than the last referenced.
This kind of model is the time when you buy clear or imprint fewer articles of clothing things and after that, incorporate your hand specialty, name or tag before selling them in your store. This can exhibit to be altogether more monetarily smart than print-on-demand, as you can organize better rates for mass buying.
How to start private label online clothing store?
Unfortunately, there are a couple of drawbacks, for instance, overseeing accomplishment and stock organization yourself. In any case, some stages will empower you to streamline the technique, for example, Threadbird, where you can buy and custom-complete realization your clothing and attire. They moreover offer attainment organizations for those of you who need to hold your one of a kind stock.
3. Custom Cut-and-Sew Clothing Store Business Model
This is one of the best business models for those who want to kick-start their clothing brand. This type of business model is for those of you who need to build their clothing line from zero. This implies you do everything from organizing your pieces of clothing to collecting and achievement – yourself.
The best privileged here is that you are trading something fascinating and can re-try as you see fit. Nevertheless, custom cut-and-sew associations go with a lot of the board, as you will be accountable for finding and arranging your own model makers and makers, sourcing your own one of a kind surface, etc. This suggests a lot of open investing plan and energy expected to dispatch your first line.
4. Redistributing Clothing Store Business Model
Like print-on-demand, redistributing clothing stores empower you to sell a dress that is fulfilled from wholesalers. This is an intelligent course, as you don't have to oversee acquiring stock ahead of time, securing, squeezing, or sending. The only downside is that your things won't be as fascinating and there could be an arrangement of stores selling indistinct stuff from you.
Regardless, it might be elementary to set up. With applications, for instance, Oberlo, you can find and compose a lot of suppliers and fuse them into your online store.
5. Design a business plan
Once you have a niche, types of products you are going to sell, and business model, the next thing you need to do is outline the business plan:
Brand/company description (how you want your target market to view your brand)
Products (deciding what makes them unique)
Market (drilling down your potential shoppers into segmented markets)
Business model/fulfillment strategies
Biggest competitors (listing your top competitors)
With regards to eCommerce methodology, you need to ensure you're addressing questions, for example, where your traffic (potential customers) will originate from and what will make your items engaging that traffic.
Moreover, and all-around significantly, some portion of your marketable strategy ought to likewise incorporate your valuing. Spending limit the cost per item with these significant cost contemplations:
Hardware, web improvement, facilitating, and so forth.
Structure and improvement
Creation cost per item, including that of tests
Work and transportation
Materials
When you know the costs, you are then ready to work out your edges, where you're searching for a side of around 30-half if utilizing cut-and-sew models. Be that as it may, at this stage you ought to likewise be taking a gander at your most significant challenge for estimating, guaranteeing you are not evaluating yourself ideal out of the market.
6. Developing & Designing an online clothing store
Online clothing store design and development is one of the most important factors for your online clothing store business. One mistake which most of the business owners make when they are starting an eCommerce business is that they choose ready-made website builders during the development process. This mistake will make your website vulnerable and leave a lot of errors. Also, this mistake may sometimes cost you a lot in terms of heavy loss of financial and data as well.
Good Design = More Money
How a good design can grow your business
Thus, one should always choose custom website development when you are talking about how to set up an online clothing store. In custom development, dedicated developers have used the latest technologies, such as Laravel, Magento, etc. These technologies make your online store robust in terms of performance and quick-responsive. In addition, it will help your website in dealing with a load of traffic as well.
7. Launch your online store
At the point when your things are set up, the field-tried system is set up, fulfilment is dealt with, and the site is done, it's a perfect chance to dispatch your electronic dress store. Here are some dispatch tips to empower you to start.
1. Portray Your Launch Strategy
It is protected to state that you are going to run a progression? Do a Facebook Live video? Use an existing email database to push mystery mailers? Whatever framework you choose, have it set up to take off all around requested as you dispatch. This should join errands, for instance, altering and testing your whole store's handiness before driving.
2. Set up Your Social Accounts
Before you dispatch your site, guarantee your social record pages are set and arranged. Believe it or not, have these dynamic – with substance – before your massive dispatch. This will engage you to run your social advancements with the shipment and market your new store to a viably creating after.
3. Have Your Email Marketing Strategy and Automation in Place
Guarantee all your automation messages are set up and attempted and that you have an email displaying procedure orchestrated out for your underlying three months.
8. Boost your online presence with Digital Marketing Technique
If you think that once you have launched your business online, you will immediately start gaining a lot of profit, then we must tell you that you are wrong. After deployment, you must work tirelessly to rank your business on the top of the search engine's results. In order to be on the top of the search results, you must incorporate digital marketing strategy into your business. The latest Search Engine Optimization Techniques will not only rank your online clothing store but also it will bring a lot of profit to your business. There are a lot of digital marketing firms helping their clients in making the best online presence over the internet.
This was a complete guide to how to start a successful online clothing store. If you are startups or business organizations, who are planning to start an online clothing store, go through the points mentioned above. Associating with the right website development company of hiring the best developers will help you in fabricating intuitive and responsive online store for your business.