How To Start An Online Clothing Store In 11 Easy Steps
Last Updated: January 6, 2023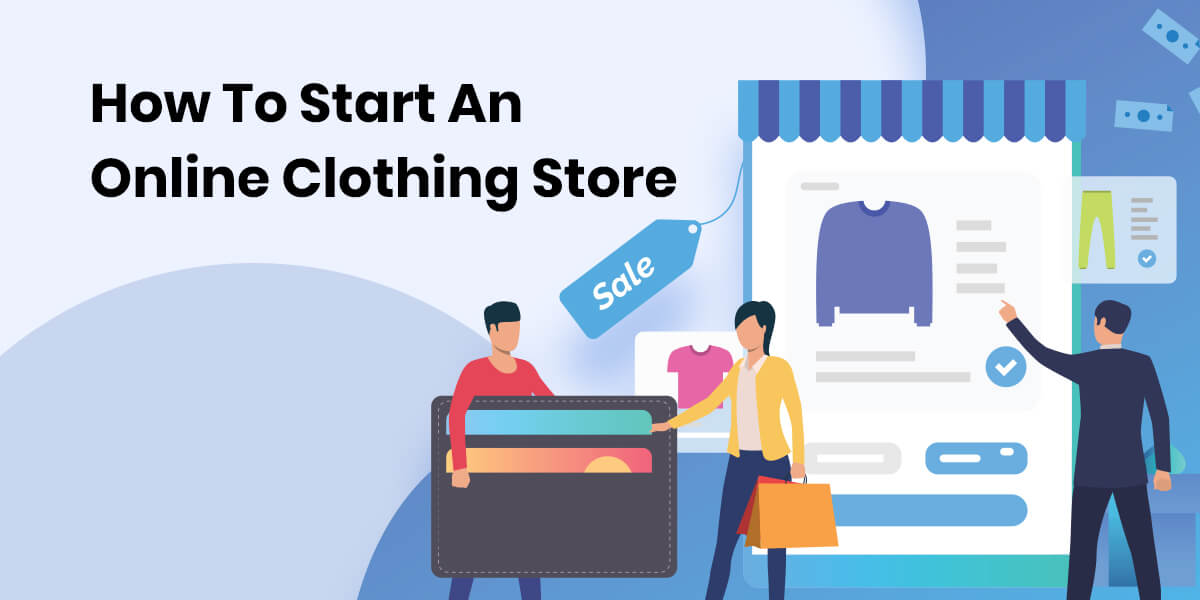 Do you have knowledge and understanding of the latest fashion trends? Are you looking forward to starting an online clothing business for a long but never made your hands dirty?
Then this is the right time to enter into the clothing industry.
Because the online clothing business is one of the most profitable niches. Don't believe it, then look at the statistics:
According to Statista, the retail eCommerce revenue from apparel and accessories sales recorded 180.5 billion US dollars in 2021, growing from 144.8 billion in 2020 and by 2025 the market revenue will increase to 295.7 billion U.S. dollars.
As per NPR, 92% of online shoppers have bought shoes or clothes from an online retailer.
From this, we say that starting an online business now is a great idea & there are many online clothing business opportunities. To start an online clothing store, you can either create a clothing store app or a website or both.
Here in this blog, we will provide you with a step-by-step process on how to start an online clothing store.
11 Easy Steps To Start Your Online Clothing Store
Follow the steps given below to start your online clothing store business:
Step 1: Choose Your Online Clothing Store Niche
The first thing you need to do is decide which clothing and apparel you want to sell on your online clothing store.
This process will help you choose the products and design your whole business plan around the type of target audience you want to attract and ensure you can start your business uniquely.
LookHuman is one of the best examples which suit the current discussion.
The niche they have chosen is Pop Culture. To feed the pop culture, they used bold humor, which appeals to what pop culture refers to as humor.
Their target audiences were also impressed with this unique strategy. They choose stylish hoodies, socks, and tees by ditching branded products.
Getting inspired from this, you can also design your marketing strategy so that you do not have to work hard to kick-start your online clothing store.
Tips To Choose Your Niche
Choosing your niche requires a lot of research to know what is more popular. Check the media. Make a short list of top relevant brands, both online and offline. Once you have shortlisted the brands, the next step is to talk to the boutique owners to find which clothing niche sells more. If you have a big family and many friends, you can ask their opinion and match it with what you find in your market research.
Amazon, the big daddy in the online retail market has a 'best seller' page that keeps updating every hour. This is a great place to research the clothing niche that is attracting more people over a long period.
You can also visit the fashion fairs and talk to multiple brand owners and get their expert opinion about popular clothing niches in the market. All this research will take time, but if you do it, you will be able to get a clearer picture of the various clothing trends in the market and which ones are more popular with the masses. It will help you to understand which niche you should target to get maximum traffic to your online clothing store.
Some of the popular niches include the following:
Vintage clothing.
An athleisure clothing line.
Genderless apparel.
Casual.
Modern street.
Corporate.
Prep.
Jock.
Rockstar.
Adventurer.
Trendy.
Vibrant.
Vintage clothing.
An athleisure clothing line.
Genderless apparel.
Casual.
Modern street.
Corporate.
Prep.
Jock.
Rockstar.
Adventurer.
Trendy.
Vibrant.
Step 2: Choose Your Products Wisely
When you have a niche, it's an incredible chance to pick your things. Will you sell undercut sleeve shirts or dresses? The clothing and attire business area is for all intents and purposes and you can make sure there are a ton of products inside the category you're selling in.
In any case, if you're attracted to a variety of clothes and plan to sell everything, this could be your death before you've even started.
When you're starting an online clothing store, a better approach is to start with nearly nothing and moderate and after that, branch out your lines as you create.
Tips To Choose Your Products
To choose the right products, you have to know your audience's choice. The fashion market is evolving at an accelerated pace and you must stock those products that will attract your potential buyers and gain their loyalty. You can also turn to social media to find out the requirement of shoppers. This will give you a good idea about which dresses you must put on display, which will attract shoppers' attention and they will be willing to pay for them to satisfy their emotional needs.
Such meaningful insights about your client's behavior can help you to meet their needs and enhance your brand trust leading to revenue growth. When you are stocking your online clothing store, you must look at 3 main things. These include the following:
1. Quality: You must always put those products which are of good quality. The product should not only meet the expectation of your potential clients but even exceed them. This will allow your brand to create a distinct name in the market for selling high-quality products.
2. Variety: Even when you are targeting a specific niche, you must provide more variety to arouse the interest of customers visiting your online store. Display clothes of different colours, sizes and shades to attract the attention of the customers. It will encourage the viewers to spend more time at your online store browsing, which can lead to more sales.
3. Design/Aesthetics: Fashion is much more than just fabric. When buying a dress, your customer relies a lot on the emotion that the product evokes in them. Shoppers always hunt for a product that is unique and has a flattering design. They want to feel comfortable and confident wearing that dress and feel the pride of ownership for that product.
Step 3: Pick A Suitable Business Model
After deciding the niche and kind of products you want to sell, it's time to pick a business model for your clothing store. There are mainly four types of business models in which your clothing store business falls, check them below:
Print-on-demand
Custom cut-and-sew
Private label
Dropshipping
Each business model has its very own advantages and disadvantages. Hence, you should choose one model as per your objective, spending plan, and capacities.
Now let's have a brief about all the models:
1. Print-on-Demand Clothing Store Business Model
Print-on-demand is one of the straightforward business models, and at the same time, it is highly affordable. Moreover, as per one study, the custom shirt printing industry alone will reach $10 billion in sales by 2025.
These kinds of stores either print or update the pre-existing clothing according to the custom orders. Here, it mainly includes logos or a specific set of designs. As soon as a customer places an order, you or any third-party printer can form products as needed.
In print-on-demand stores, there are no ready-made clothes available for sale. In case you choose to rely on a third-party printer, your overhead costs decrease.
2. Private Label Clothing Store Business Model
In the private label business model, you need to collaborate with established companies that will later sew your label into the items.
In this type of model, you have to buy plain or label-less clothing items and, after that, incorporate your specific design, label, or tag prior to selling them in your store.
The investment in private label clothing is more as you have to identify a suitable manufacturing partner and pay them in advance for branding.
How to start a private label online clothing store?
This model offers greater adaptability in terms of batch size & sampling, allowing stores to analyze products and tweak your plan without making much investment.
Unfortunately, there are a couple of drawbacks, for instance, overseeing fulfillment and stock management yourself.
In any case, some tools will empower you to streamline the technique, for example, Threadbird, where you can buy and modify dress and clothing as per the requirement. The tool provides fulfillment solutions if you maintain your inventory yourself.
3. Custom Cut-and-Sew Clothing Store Business Model
It is one of the best business models for those who want to kick-start their clothing brand from scratch. Here, you have to look after all the things from start to finish, such as a collection of materials, manufacturing space, and then fulfillment.
The primary benefit of this model is that you will be selling something unique and can customize it as per your requirement.
Here, you have two options:
Outsource your clothing requirements to firms.
Produce all the clothing yourself.
If you choose the second option, you will be entirely liable for identifying and coordinating your pattern-makers and manufacturers, finding suppliers, etc.
For the custom cut-and-sew clothing model, you will require enough funding and also knowledge of design principles.
Like print-on-demand, dropshipping allows clothing store owners to sell clothing items directly fulfilled from wholesalers.
Dropshippers mainly work as middlemen; as soon as an item is ordered, the dropshipper orders the item from a third-party company and then delivers it to the customer.
For instance, dropshippers collaborate with leading eCommerce sites like Alibaba to obtain products at reduced costs, which can be later sold at a fair price.
As per this business model, you will require very little investment for starting a clothing store as you don't have to deal with things like stocking, storing, packaging, and shipping.
The only downside is that your products won't be unique and can easily be purchased from other vendors.
Step 4: Outline Your Business Plan
When you decide to open your online clothing business, put all the crucial aspects of your brand on paper. It will help you to understand the various challenges you may face. This way you will encounter fewer surprises when you strive to establish the name of your company.
Making a well-thought-out plan offers numerous benefits that include the following:
It removes the scope of guesswork on your part.
Express the core values and goals of your brand.
You establish clear and measurable benchmarks for the success of your brand.
It will attract investors who are willing to put their money into your business.
Give a sketch of the financials of your brand.
You should follow a well-thought-out and systematic plan. Such a plan will help in summarising your idea of how your brand will grow to reach its goal. Here we have put together some crucial tips that are useful for making an effective plan for your online clothing store.
Look at Some of The Business Plan Templates for Inspiration
Write the executive summary
Provide the right information about your company
Explain your products and services
Give a detailed analysis of the market overview
Inform about your sales and marketing
Introduce your core personal
Mention your financial outlook
Check your business plan for any errors
Add engaging photos and informative graphics to improve the readability of the plan
Step 5: Decide your Shipping Partner
The next important thing is to choose a particular shipping partner to safely and securely deliver your products to your customers.
Depending on the business model you have chosen, you have to choose a shipping partner.
Here, if you choose dropshipping, you don't need to handle shipping logistics yourself. In the other case, if you have your inventory, you need to collaborate with a logistics company.
Different shipping companies operate in different regions, you should choose the one that suits your budget, and is reliable. Here, it would help if you also considered other taxes when you are delivering your products internationally.
Step 6: Choose an Appropriate Domain Name
The domain name of your online clothing store is extremely important. It is crucial for building the online presence of your clothing store. The domain name forms the basis of how your potential customers will find your store, engage with your brand and think about your business. The domain name provides credibility to your business and gives your online store the same access to the marketplace as other competitors online.
The domain name is a pathway through which your potential customers can visit your website to know more about your business or your products or services. Choosing the right domain will help build a strong brand image, which will help your online store to stand apart in the crowd.
While choosing a domain name, ensure that it resonates well with your clothing business. Here are some of the vital things that you must take care of while buying a domain name:
Domain name should be simple to remember
Don't go with a word that is difficult to pronounce because people will find it hard to remember and also share it. One better strategy is to choose some of the most common words and make a phrase that's easy to remember.
A vast number of businesses and brands already exist in the online clothing business sector; therefore, you should choose a domain name that represents your brand and business.
Even though many TLD (top-level domains) are available in the market, such as .org, .net, .xyz, etc., it is recommended to go with a .com domain as it's not only widely used by businesses but also helps you to attract more audience to your online clothing store.
Step 7: Develop Your Store Using An Appropriate eCommerce Platform
After choosing products, deciding on a proper business model, and making the right plan, the next and highly crucial step is selecting an eCommerce platform for your store. Here, you can either develop a website or app or both.
If you have a low budget and short-term plan, you can choose to go with eCommerce SaaS platforms to build a website.
However, if you have a long-term vision and want to customize your clothing store, it is highly recommended to go with custom website development.
For the same, you should approach a prominent custom website development company. They will understand your requirements and deliver you the best website as per your requirement.
Before creating a website for your online clothing store, one of the questions that must appear in your mind is, what is the cost of building a website for an online clothing store?
To know the cost, you can check this blog on the cost of building a website.
A website is one of the best tools to take your business online; however, if you want to reach a broader audience and provide a top-notch experience to the users, you should also develop a mobile app.
For building a mobile app for your clothing store, you have two options. Firstly, you can choose to go with website builders, which are low in cost.
However, there are many drawbacks linked with the builders, such as less customization, security, limited features, etc.
Therefore, if you want to build a mobile app for your online clothing store, you should go with app development from scratch.
For this, we highly recommend you to approach a leading mobile app development company. They have years of experience; hence they can understand your needs and deliver you the best possible solution.
Step 8: List Your Products
After your online clothing store is developed, the next important thing is to list all the products for sale. For the same, you have to consider essential things given below:
Appropriate Product Descriptions
Description products are one of the most vital parts of any eCommerce website as they determine whether a particular product/page is suitable for the search engine results.
They are essential to notify customers about the type of product you are offering and why they should consider buying from you.
Whenever you write product descriptions, one better strategy is to utilize different colors along with powerful language that provides all the details that the user wants from a product.
Display Products Properly
To display all the products effectively, you should include photos that should match the product descriptions.
Here, you should not include one photo for your product but different photos of the product from different angles. By doing this, any user would be able to make a better decision.
You should also ensure to upload high-quality photos representing all the things like the front, back, side, fabrics, etc. details about the product.
Here, it is highly recommended to hire a professional photographer who clicks photos of models at different angles.
Step 9: Launch Your Online Clothing Store
Now, as you have listed your products, created a business plan, established a fulfillment store, and made a fully-functional site, it is time to release your online clothing store. Here are several essential tips that you should consider:
1. Portray Your Launch Strategy
Are you planning to run a promotion? Want to conduct a Facebook live video for the store launch? Send an Email from your existing database.
It doesn't matter what you choose; please make sure that you provide details in a step-by-step process. To avoid any mistakes, read the entire process twice, and then share it with your target audience.
2. Choose an Effective Email Marketing Plan
Please check that all your automation messages are ready and tested and also ensure that you have formed an email marketing strategy for the upcoming three months.
Step 10: Boost Your Online Presence
If you think that you will immediately start gaining a lot of profit once you have launched your business online, then we must tell you that you may be wrong.
After deployment, you must work tirelessly to build the online presence of your business in the market.
Here we have given some most popular marketing strategies which will help you to boost the online presence of your store.
1. ASO
ASO or App Store Optimisation is a strategy for improving the visibility of your app in the App Store. If you are also using a dedicated app to provide better engagement to the customers of your online store, you will need your app to rank higher. In any App Store, individual apps are categorized on various factors. If you can successfully use keywords, localized descriptions, and relevant images, your app will rank higher. A higher rank will ensure more visibility to your app, which will help in more downloads.
2. SEO(Search Engine Optimization)
Search Engine Optimization is a process through which you improve the visibility of your website by focusing on those factors to which the algorithm of the search engine gives more weightage to rank your website. The higher your online clothing store website ranks, the more visibility it will get, which in turn will help attract potential customers to your business.
3. Social Media Marketing
SMM is the strategic use of social media to improve the brand visibility of your online clothing store and drive more traffic to your website. It helps you to engage with your current customers and reach out to new ones. SMM when done effectively can help you to attract more customers to view your products and services.
To execute this task effectively, you can approach a professional digital marketing agency; they will increase your presence and rank your store in the search engines.
Step 11: Look After Inventory And Organize Your Online Clothing Store
Inventory is one of the most crucial elements of your online clothing store business. When you don't have good stock for the demanded products, people will get frustrated. On the other side, if you have more stock than required, then your financial resources will be locked.
Watch Out For The Latest Trends
Always have a look at the most popular products and ensure that you have them in your stock. Moreover, you should also make sure that your store products don't go out of a specific limit; here, you should consider integrating a proper system to track things.
For this task, you can either hire a person who manages the entire inventory when the products are overstocked or understocked.
There are some essential benefits of checking inventory from time to time. It helps you to find products that sell immediately and also products that remain in stock for a long. Also, you can find specific products that have higher sales in a certain period.
Utilize Data To Define Your Clothing Inventory
All the data that you have obtained from the trends and tracking of your inventory will help you to define the future of your inventory. This includes the list of products you have to stock as well as remove from your online clothing store.
We hope that you have understood all the things related to the online clothing business plan. Also, you must have an answer to the question, How to start an online clothing store?
Starting an online clothing store business requires a lot of time, money, resources, and effort. Hence, it can't be done by a single person and you will need a professional team of developers.
For launching an online clothing store, you have to make a good investment for the first time. Later, you only have to pay for maintenance & support.
If you have an online clothing store idea, don't hesitate to share your details with us. We at GuruTechnoLabs, a leading web & mobile app development company, can understand your requirements and provide you with an effective solution.