Headless Commerce: Architecture, Benefits & Everything You Need to Know
Last Updated: January 6, 2023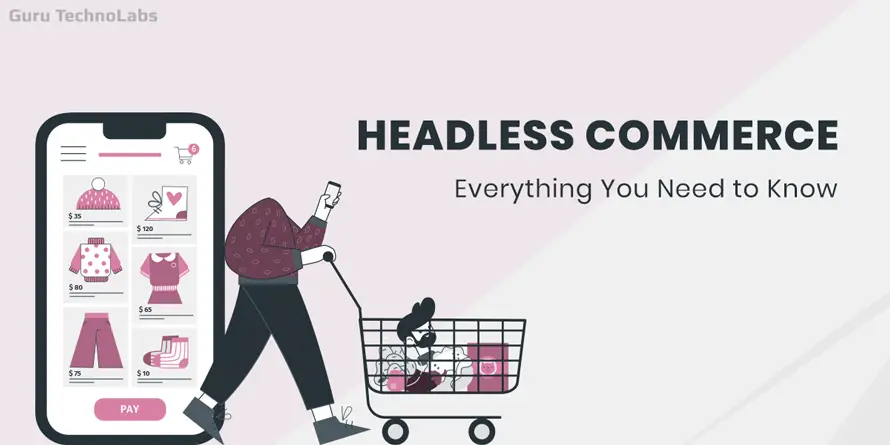 E-commerce businesses have grown at lightning speed and are a trillion-dollar global business. The online buying behavior of customers has increased tremendously with the onset of the pandemic. The flexibility of choosing any product from home and getting it delivered at the doorstep is a matter of massive convenience for the customers.
Moreover, consumers love to purchase things from different touchpoints like progressive web apps and IoT devices. On the other side, various smart devices and voice assistants provide users with necessary product details and allow them to place an order.
All the eCommerce stores that have changed as per consumer behavior and the latest eCommerce trends are ruling the market. But, many retailers find it challenging to modify stores. They have a question, how to update the store regularly as per the consumer behavior?
The answer to this is headless commerce. It is one trending buzzword that has helped many eCommerce platforms and brands grow, expand, and create a sales funnel.
Here, we will first look at the basics of headless commerce. Further, we will go through how headless commerce works and the benefits of headless commerce.
So, let us start.
What is Headless Commerce?
Headless commerce separates the frontend and backend of an eCommerce site or app in the simplest of terms.
Here, the frontend and backend are separate, and eCommerce sites can customize or update the frontend without touching the backend and vice versa. The separation allows the brands to make changes on the front end to make the website look visually aesthetic, enrich the customer experience, and integrate better merchant opportunities.
Before getting into the details, it is significant to know the difference between the frontend and backend elements:
Frontend – In simpler terms, it is the customer-facing front of the eCommerce store. It refers to what is visible on the outside, including the presentation, layout, etc. The easier the navigation and the site appeal, the more customer retention.
Backend – This involves all the processes, systems, and tools used in the background for handling and managing the e-commerce store and its operations. Backend technology ensures the business runs smoothly, integrating all arms like merchandising, fulfillment, security, storage, checkout, etc.
After understanding the definition of headless commerce, let us go through headless commerce architecture.
What is Headless Commerce Architecture?
A headless commerce architecture enables a frontend to communicate with the backend with the help of APIs (application programming interface). Headless APIs allow communication with different parts of the software with each other.
A headless commerce architecture provides a platform with the help of a RESTful API consisting of backend data and cloud-based architecture. As the frontend is separate from the backend, eCommerce brands can use various tools like CRM, ERP, etc., to display content, products, and payment gateways on multiple devices.
How Headless Commerce Works?
One of the most significant advantages of adopting headless commerce is decoupling the frontend (visual elements) from the backend (technical operations and IT). It allows businesses to customize the frontend to make it visually appealing, integrate better payment methods, and enhance the customer experience. It enables the merchants to plug in and use versatile functionality and tools for a better shopping experience.
The eCommerce market has become competitive, with brands focusing massively on improving the overall customer experience. Headless eCommerce allows brands to make quick changes and customize the frontend interface. Headless CMS systems are an excellent way to control the content and manage the layout of the website. API or application program interface is the backbone for headless commerce.
After understanding how headless commerce works, we will differentiate it with traditional commerce.
Headless Commerce vs Traditional eCommerce
Here are some of the key differences between traditional and headless e-commerce.
In the case of traditional eCommerce, developers have limitations in design and the overall process. If a developer has to change anything, they need to update the database, code, and the frontend.
On the contrary, there is not a specific frontend in headless commerce. Hence, developers have the freedom to create the frontend according to the business needs and offer a highly personalized experience without thinking about API or database.
Flexibility & Personalization
In traditional commerce, the frontend is connected with the backend via code and infrastructure. Hence, there is little to no space for any kind of flexibility. There is also an experience decided in advance for customers and administrative users.
In headless eCommerce, there is no frontend, and that's why developers have the option to build the frontend from scratch. They have the full flexibility to offer a specific look and feel to users and administrative users.
Traditional commerce needs very little technical knowledge as compared to headless commerce. It is best suited for people with less budget and who are not looking for advanced development.
Headless commerce requires a lot of technical knowledge. It provides more personalization and enables you to offer tailor-made experiences for multiple types of users. It is best suited for big and progressing enterprises.
After understanding the basics of headless commerce, let us go through the benefits of headless commerce. So, here we go:
What are the Benefits of Headless Commerce?
Headless commerce is beneficial for both the eCommerce site as well as the customers. It is highly recommended for small to big eCommerce store owners to consider headless commerce as it offers custom programming for both the frontend and backend.
Here are the reasons headless commerce is beneficial for the eCommerce site and customers:
Offers better scalability
Headless commerce offers better control and helps develop a highly scalable website. It integrates powerful APIs to the existing ERP and CMS system of the website for streamlining a better shopping experience for the customers.
Due to decoupled architecture, headless e-commerce adds less constraint on the developers to make the updates. There can be systematic upgrades without impacting one another.
Better level of customer privacy and personalization
Security and encryption of eCommerce websites are the topmost priority for online shoppers.
Customers share personal data and financial information, so eCommerce sites require advanced security. Headless commerce enables collecting and sharing data across the platform for better personalization without compromising security. The integration of a headless architecture enables syncing the data across multiple platforms.
It is a crucial way to create personalized product recommendations, save shopping carts across devices, and prompt the preferred mode of payment by the customer.
Provide an excellent omnichannel experience
As headless commerce allows the users to share the data across multiple platforms, it offers better marketing opportunities and conversion rates.
Headless e-commerce makes it easy and convenient to sync the eCommerce site across various platforms like mobile apps, smart mirrors or watches, voice shopping, website, and other IoT devices. It drives better customer leads and hence is helpful in more sales.
Builds better brand loyalty
Sustainable customer loyalty toward the brand is a non-negotiable for growing and expanding the eCommerce store.
Customers take time to trust a brand, and once it gets established, customer loyalty is a visible asset to a brand. It is a vast payoff not only for the brand but also for the customer. Headless eCommerce allows customizing the front end without changing the codes in the backend to improve brand value and impact.
Higher conversion rates with reduced cost of customer acquisition
Many brands use paid services for improved customer acquisition. However, small eCommerce brands with limited cash flow find it expensive to acquire and reach out to new customers. Headless commerce helps reduce acquisition costs as it creates a differentiated user experience driving the conversion. It also allows brands to strategize and streamline the content to drive organic traffic from target customers.
Ease of altering on-site content
Content management and how the website interface looks to the customer impact their response to the eCommerce brand. Headless commerce allows pushing content to the frontend through the existing CMS instead of using its eCommerce backend. It gives brands the flexibility and leverage to create fresh content and use an online video editor to customize videos and share them across the website and social media platforms. Update the website content and personalize it for the customers without changing the back end.
Improved speed and user interface
Optimizing the speed of the website is integral for better customer retention. TechCrunch is an example of a website that has integrated a headless model for improving speed. It has successfully created a user-friendly interface and boosted site performance with the help of headless commerce integration. A clean, decluttered design enhances the site's usability and increases audience retention.
Use Cases of Headless Commerce
Some of the primary use cases of headless commerce are given below.
Consider PCI Compliance, Security, and Fraud Protection: When you utilize a SaaS provider, you decrease the risk of the IT team. The main reason is that the SaaS provider takes responsibility while building an eCommerce store.
Open Architecture and Extensibility: Headless architecture makes it easy for you to build an eCommerce store in the best possible manner. You can use built-in instructions, such as ERP, CRM, and many more. Apart from this, you can also develop a custom solution with the help of APIs and SDKs.
Integrating Multiple Channels: Headless commerce architecture is best suited for a business that wants to offer a multi-channel experience. In addition, headless commerce allows the developers to add multiple channels and provide content to all these channels efficiently.
Which are Some of the Most Popular Headless Commerce Platforms?
Some well-known headless e-commerce platforms include Adobe Commerce, BigCommerce, Shopify Plus, OroCommerce, Salesforce Commerce Cloud, and more.
Whether you are a big or small eCommerce site, integrating and using headless commerce for the eCommerce platform strengthens the site architecture. Decoupling the front and backend allows developers or merchants to make changes in each part without impacting the other.
Headless commerce has made the process of creating eCommerce sites easy and more flexible in terms of content presentation and layout customization. Headless commerce definitely offers a competitive edge over native or traditional eCommerce.
If you want to create an eCommerce store using headless commerce, then don't hesitate to contact us.
Guru TechnoLabs is a leading eCommerce solutions provider. We have developed some of the best websites and apps for clients worldwide. Hence, we can understand your business needs and provide you with a suitable solution.
FAQs on Headless Commerce
Is Shopify headless commerce?
No, Shopify is not a headless platform. However, Shopify plus works well with a headless setup. Online retailers can create a presentation layer with the third-party apps and fetch data from Shopify with the help of GraphQL Storefront API.
Is headless CMS the same as headless commerce?
The headless CMS is almost the same as the headless commerce. The headless CMS gives companies an option to create a frontend experience for particular channels. Moreover, it distributes and manages content across different channels effectively.
Does every e-commerce store need a headless solution?
No, not every eCommerce store requires a headless solution. Many eCommerce stores follow the traditional model and are running successfully. Whether you should opt for a headless solution or not, relies on the business requirement. Suppose your goal is to provide a seamless content experience to users on multiple touchpoints, then you should opt for a headless solution.
Is headless CMS good for eCommerce?
Yes, headless CMS is good for eCommerce retailers that want to create a highly-advanced store using the latest technologies. Moreover, the development team can use a range of tools to build and deploy personalized customer experiences. The team can also create and modify marketing campaigns for particular events quickly.