12 UI UX Design Principles to Create Attractive Designs
Last Updated: March 15, 2023
An excellent design leaves a great impression on the audience. Moreover, people easily get connected with a design that tells a story. With the proper combination of UI & UX, you can create an attractive and quick-to-navigate digital product.
People expect a positive and reliable experience from a website or app design. If your website doesn't load fastly and has navigation & other section placement issues, people will feel disconnected and leave it.
User interface and user experience design can resolve all the issues. By considering UI/UX, you can create a smooth and effective digital design. UI design involves visual graphics and page layout. UX design is how users interact with a design. Whether you want to create a website or application, you should consider UI UX design principles.
The UI UX design field is highly dynamic. Over the years, many UI UX design principles have been introduced and are constantly evolving. Hence, it might be challenging for you to decide the best from them to start designing your digital product.
Here we have curated the list of UI UX design principles to create attractive websites or apps.
Let us look at these UI UX guidelines in detail.
1. Keep it Simple & Clear
Keeping your design simple yet practical is one of the essential UX principles. Moreover, a simple design gets quickly accepted by the target audience.
Here, you need to include necessary elements and remove all the unwanted ones. The main reason is that users who land on a website/app for a search will quickly scan through the content and understand what action you desire from them.
Hence, keeping format, layout, and design simple is a decent practice to accomplish a simple design.
Here, you should include appropriate pictures, icons, and colors to make your UI design appealing because simple does not mean dull; it just means it must be catchy but easy to the eye at the same time. Also, ensure that buttons are clickable & thoughtful.
Here are some essential UX design tips for keeping the design simple:
Each page should define a specific goal. For instance, a signup page should only ask the user to enter details like name, email, password, and mobile number.
The intent of any page should be quickly understandable by any user. For example, on any product page, the user should be able to understand the intent properly.
All the things that are not useful for the user should be presented at the bottom of the page. Besides this, you can also display extra details when users click on a button or hover in a section.
2. Know Your Users Well & Meet Their Needs
The first & foremost UI design tip that one needs to consider is knowing their audience well. Do comprehensive research to find what are the needs of your users.
It is essential to understand your users before designing your website/app. If you plan to redesign your existing website/app, you can fetch all the analytics data. It helps you understand users' needs properly and what obstacles they face.
Here, to resolve these queries & issues, you need to understand the users inside-out. Then you need to present the design to the users and ask questions like,
What do you think of this design?
What do you expect from the app?
What stops you from achieving your goal?
Based on your analysis, build your design, and meet all their basic requirements. Moreover, all the valuable details you have obtained will help you shape every decision you make.
3. Utilization of Typography
Typography is one of the crucial principles of user interface design. It involves font style, appearance, and structure, trying to obtain certain emotions and convey particular messages to the end-user.
To create an attractive UI design, you must pick typography that looks trendy, elegant, and simple yet does not spoil the readability of your design.
Ensure that your design has better typography so that users don't have any battle to read a specific word.
If users face issues in reading, then being a designer, you have not done your job well. Thus, you should pick typography that is easy to read and perceive.
Typography does not mean just picking up a calligraphic text. No, it is not like that. It plays with the positioning of words in designs.
The size of the fonts is crucial in a design as they mark the impact on the layout.
For example, a text with a higher font indicates that this part of the text is the main heading, and the remaining are the content and subheadings. It is one of the best UI design tips you should follow while designing a website or application.
4. Set Proper Expectations for Users
Setting a clear expectation for users is yet one of the crucial UI design best practices. Various interactions on the site/app have one or the other consequences. It can be anything from paying for a service, sharing on social media, filtering to find the correct product, etc.
With every consequence, there is some feeling attached to it. Hence, you need to inform users in advance about what happens when they click on a specific button. You can achieve this thing with proper design and copy.
Defining proper expectations with design
Add a symbol that is known to a broader audience. For example, adding a cart icon to place any product in the cart, a delete icon to remove any product, etc., with the copy.
Highlight a button or a section when users hover over it.
Use a color that indicates proper meaning to the text.
Defining proper expectations with content
Offer accurate content when there is empty space.
Showing error signs, confirmation messages, etc., wherever needed.
5. Ensure Design is Accessible
An accessible digital product design is easy to navigate for the majority of people. It means, that people with different abilities like low vision, visual impairments, cognitive impairments, etc., can access the design without any issue.
Over the years, the majority of businesses were not focusing on the accessibility of digital products. But now, it is changing. It is due to the introduction of new laws and the rising demand for digital products.
Here are some of the things you should focus on to increase accessibility:
Improve Text readability
Use an appropriate amount of contrast
Use colors that can be seen by anyone
6. Better Onboarding Experience
For every online website or app, first impressions are crucial. To convey details about your website or app effectively and conveniently, you need to provide an enhanced and simplified onboarding experience.
Moreover, providing a simple yet effective onboarding process is highly important in the app or website UI design.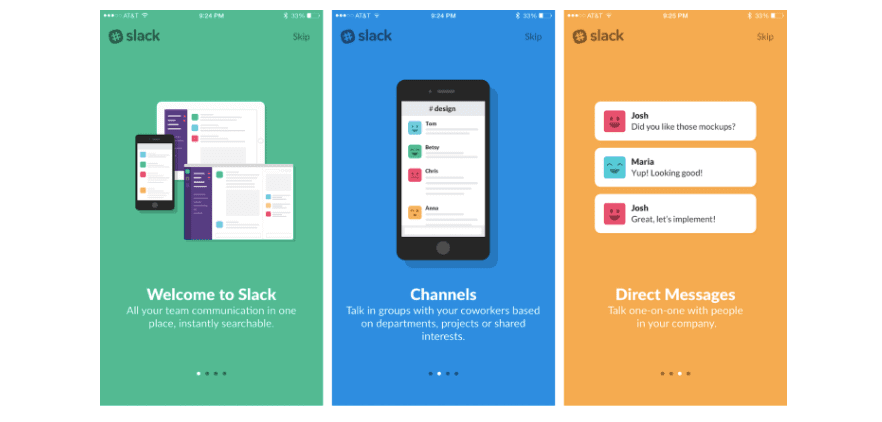 However, various users don't like to go through the onboarding process. To meet the need of these users, you should integrate a feature that allows users to skip the onboarding process.
7. Focus on Good Responsible Design
The craze for smartphones and tablets is increasing every year. The usage of these devices has reached so far compared to desktops. Therefore, responsive website design is one of the most crucial UI UX design practices that you should not avoid at any cost.
A non-responsive website makes it challenging for users to view text or browse any information. Moreover, users will not be able to find information on your website and leave it.
On the other hand, if you consider responsive design, it will help you rank higher in the search engines. Besides this, responsive looks great on various screens is easy to update and loads speedily.
If you are already considering responsive design but images and texts on your website are not working well on different screens, then it is just responsive. Here, it is time to offer a good responsive design. In a good responsive design, all the things on the website are responsive regardless of the device a user accesses.
8. Consistency from Start to Finish
While considering the UI UX best practices, various designers forgot to consider this thing. It is nothing but the flow of the website or app. It is one of the highly essential aspects, and you should ensure that the website/app is seamless and offers better value.
This thing matters because it allows users to get what they want and ultimately helps businesses achieve their goals.
To provide a better experience from start to finish, you need to make a detailed list of what action the user performs from one step to another.
Moreover, all successful apps in the market consider offering consistent experience as one of the essential app design tips.
Think about the eCommerce app's flow. Any user starts their journey from the homepage or directly lands on a product page.
You have to think carefully about which page a user enters after the following page. For instance, the product page allows users to add products to the cart and visit the cart page.
One of the other crucial things that you must look carefully at is dead pages. A dead page does not allow the user to go anywhere.
You should ensure that the user does not come across any of these pages during its journey.
Lastly, there is an end-goal of any app, the page where both users and the app's goal interact.
Suppose a user is looking for relevant images & if you are offering better ones to users, then your last goal is to make sure that users subscribe to your services.
9. Have a Proper Hierarchy
There are a lot of businesses that neglect hierarchy and face various issues. If you don't want this to happen for your website or app, you should consider hierarchy as one of the crucial UI UX design principles.
Generally, there are two types of hierarchy. The first includes how the entire content is placed on the website or app. It also includes the order of the screens on every page.
For instance, consider that you are opening a website. You will first see the navigation bar. Then after you see the sub-menu, buttons, forms, etc., explore more.
Another type of hierarchy that you need to focus on is visual hierarchy. It includes the process following which the user navigates within a page or a section. To ensure proper visual hierarchy, you should place content effectively so that users go from the most important interface to the least one.
10. Utilize Whitespace Properly
Using whitespace effectively is one of the crucial principles of user experience design. It is also a great way to improve website/app design.
An efficient amount of white space can make your website look attractive & clear.
Image Source : whitespacemarketing
It is not compulsory to keep the design background white. Here, you only need to ensure enough space between the two elements. Whitespace is mainly utilized to offer better clarity & finishing to the design.
One of the crucial rules to keep in mind while designing a mobile app is that there should be an appropriate space between buttons & other elements.
If the button is close to any of the design components, a user will not be able to view the button. Keep specific kinds of buttons to indicate things properly.
Several ways you can use white space to enhance the UX of your website:
Improve the line space of your text in the body.
Enhance white space between the long text block & the right & left margins.
Never keep images along with the text. Insert them on top or any other text blocks.
While designing any website or application, the user's context is essential. Context helps you present your product or service in a real way.
The location of the user is a crucial factor. Here, define whether you create a design for a user sitting at a desk or accessing things anywhere. Besides location, you should consider the age, emotional state, device, environment, education, region, etc., of the users.
When you consider all of these things, you can understand the user's behavior. Later, it helps you create a design that gives the best experience to the user. For instance, the overall state of a user will have a good impact on how the user sees your product or service, and therefore you should design accordingly.
12. Feedback Plays a Vital Role
Everyone's life depends on a specific mechanism, where the user asks something and gets feedback.
However, this is not possible in the case of digital interfaces. For instance, if your PC stops in the middle, it doesn't remind you what to do.
However, it should not happen in the case of a website/app; it should display a specific type of animation. You should display different animations like loading symbols, high-fi, and more according to the needs.
Also, you need to ensure that users get feedback within the desired time frame. It is because human beings don't like to wait on a site/app for long. It would help if you displayed any relevant icons for a particular thing.
The primary purpose of UI/UX design is to ensure that your design works for your users and your business. To achieve this, you need to provide information as per the users' needs and remove all the unwanted things that create hurdles in their journey.
By following these UI UX design tips, you will be able to design a website or app that aligns well with your target audience and helps you build a better interaction with them.
If you are planning to create a design for your website or app, don't hesitate to contact us.
Guru TechnoLabs is a well-known UI/UX design agency. We can provide you with the best UI/UX design as per the requirements & goals.
You are welcome to share your project details with us, and we will provide you with a free quote.