How to Create a Weather App?
Last Updated: November 22, 2022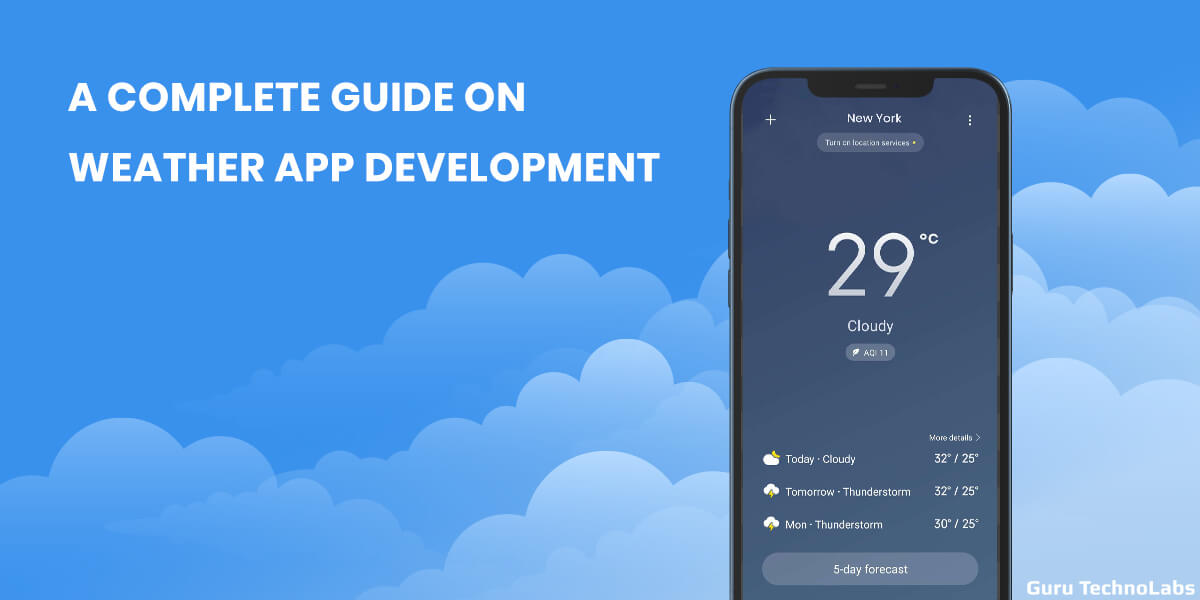 The weather has a crucial bearing on our lives. Whether you are rich or poor, living in a city or village, going to your office, or planning to travel abroad, weather affects us.
Any alert regarding adverse weather conditions gives people the time to either reschedule their travel date or take adequate precautions.
With each passing year, people worldwide have become more reliant on weather conditions to plan their daily lives. Therefore, the demand for weather apps is increasing.
You can exploit the huge demand for accurate weather forecasting to build an app that would give users detailed weather reports, forecasts, and adverse weather alerts.
If you still have doubts about developing a weather app, here we will provide you with some of the recent insights about the weather app industry.
So, let's start.
Latest Insights of the Weather App Market
According to Grand View Research, the global weather app market size was valued at USD 803.9 million in 2021 and is expected to expand at a compound annual growth rate (CAGR) of 8.7% from 2022 to 2028.
As per Research2Guidance, apps falling under the weather category are the most profitable in the Android market.
The statistics indicate that the demand for weather forecasting apps will increase in the coming years.
Want to Enter the Weather App Market?
Let us know your future goals. Our experts will brainstorm and propose
a next-gen weather app solution along with a free quote.
If you have planned to make a weather app but don't know where to start, you have reached the right place. Here we will explain in detail how to build a weather app.
So, let's get started.
6 Steps to Build a Weather app
Here is a step-by-step process that you need to follow to build a fully functional weather app.
1. Research about Your Competitors
Weather apps give the users' weather forecasts based on hours and even days.
A weather app that offers an attractive user interface and provides highly accurate forecasting will take the lead over its rivals.
Therefore, you must first research the apps of your main competitors to study their strengths and weaknesses before you create your app.
Researching the apps of your successful competitors will give you a clue regarding what features you must add and what to avoid in the interface of the app.
You can also go through the reviews of these apps on the various platforms to know what extra features their users want and try to include them in your app to get an edge over them.
2. Get the Tools Needed for Accurate Weather Forecasting
After studying your competitors, you should look for a source of highly reliable and accurate data for weather forecasting that can be integrated with your app.
While there are many weather forecast API providers available in the market, here we will walk you through the best of the bunch.
Weather Underground API
It is a well-known weather forecasting company that comprises mobile services to provide meteorological data sourced from multiple weather stations.
The company has created a WeatherUndergound API which developers can use to develop a weather app.
Besides this, the company allows third-party developers to create APIs and share it with them.
Some of the API data packages that it offers include the following:
DATA CORE: It offers the most basic weather APIs, radar, and satellite data.
ENHANCED CURRENT CONDITION: It includes their highest resolution weather data.
SEVERE WEATHER: It offers real-time weather forecasting as well as trailing estimates of any severe weather pattern.
ENHANCED FORECAST: It provides highly sophisticated weather forecast models created by sophisticated algorithms.
HISTORICAL DATA FORECAST: It provides you with historical weather data observations.
TRAFFIC DATA: In this package, you get data from a massive network of 300 million sources in 50 countries regarding traffic and incident data.
OpenWeatherMap API
OpenWeatherMap API is an open-source module that gives you highly accurate meteorological information from more than 40,000 weather stations spread worldwide.
Some of the highly refined data that it provides include the following:
Historical data of more than 1,20,000 cities around the world.
An interactive map including current weather patterns.
Highly accurate daily and weekly weather forecast of a city.
Multiple web maps show the cloud pattern, wind, precipitation, and temperature.
AccuWeather
It is another globally recognized company that provides comprehensive and highly accurate meteorological data to its registered users.
The reputed company has created AccuWeatherAPI through which it offers the following details to the third-party app developers:
Local meteorological data and current weather conditions.
Hourly and daily forecast.
Weather notifications.
Satellite and radar pictures.
Astronomical data and much more.
3. Create an App that Stands Out
After you have collected all the research data and tools, the next logical step is to create the weather app for both Android and iOS platforms.
You have two options: Make a separate app for both platforms or create a hybrid app that works on both platforms simultaneously. If you don't know the difference between native and hybrid, you can check this guide on native vs hybrid app development.
While building the app, the next thing you must keep in mind is its utility and easy accessibility to the user.
To make the app attractive, you should work hard on the user interface and try to make it interesting by including animations.
Some of the essential features that you must include in your weather app include the following.
Real-time weather info and forecasting.
Hourly and weekly forecasting with interactive maps.
Push notifications for any weather alert.
Sunset and sunrise time.
Traffic condition and visibility.
Support for the maximum number of devices.
Attractive graphics and animated icons, and more.
Want to create an amazing weather app with exclusive features embedded with the latest technologies?
4. Decide USP of Your App
As your app will compete with thousands of similar apps in the market, you must provide a Unique Selling Proposition (USP) in your app that would help it to stand out in the crowd.
For example, you can include a USP that offers emergency details in case of natural disasters. For the same, you will require information regarding nearby shelters, emergency services, and other things.
5. Choose App Monetization Methods
Once you have created the app, the next question that will appear in your mind is how to monetize a weather app?
You can earn money by providing advertising services integrated with this app. You can also offer a plan in which users can disable the ads and get some premium features.
Besides this, you can integrate various other monetization methods into your app.
After you have made the app and chosen the monetization method, the next step is to introduce it into the app market.
The Android PlayStore and the Apple App Store have distinct requirements for listing any app. After you have completed all the official documentation, your app will be listed.
Now start your digital marketing campaign through multiple channels to create a buzz around the app launch which will interest people to download and try out its features.
Pro App Launch Tip to Maximize Downloads
Claim social media accounts on the leading platforms, post regular updates about the app, engage your followers and keep your link in the profile bio after launching so they can install instantly.
How Much Does it Cost to Develop a Weather App?
The estimated weather app development cost varies significantly on complexity, features, functionalities, total time, developer location, etc.
However, a basic weather app may cost you around $10,000 and a customized app with additional features may go above $30,000 at least.
Want to Know the Cost of Your Weather App?
Schedule a meeting with us. Our experts will understand your requirements
and provide a solution song with a free quote.
If you have less budget but want to launch your weather app, you have an option. What?
You can develop and launch your MVP app with minimum features. Further, you can update the weather app as per the requirement.
Although creating a weather app is not resource-heavy, if made correctly, it can offer economic benefit to your business and also help the users to get an accurate weather forecast.
If you have a great idea and want to develop a weather app, don't hesitate to contact us.
GuruTechnoLabs is a well-known mobile app development company. We have delivered mobile apps to clients worldwide. Hence, we can understand your project idea and provide you with a modern weather application.
FAQs on Weather App Development
1. Where do weather apps get data from?
Weather apps collect data from authoritative agencies like National Weather Service, National Oceanic and Atmospheric Administration, and sometimes also from satellites.
2. What should a weather app contain?
It should contain detailed forecasting data on the temperature, wind speed, ultraviolet radiation intensity, precipitation, and many more helpful data.
3. Are weather apps profitable?
Yes. Weather apps earn a huge share from in-app ads. Apart from it charging a fee to use an app or offering some exclusive features for paid users proves to be strong monetization opportunities.
4. What is the number 1 weather app?
1Weather is currently the most popular app. There are also other apps available like Accuweather, Appy Weather, Today Weather, and many more.