Advantages and Features of Tourism Apps
Last Updated: November 18, 2022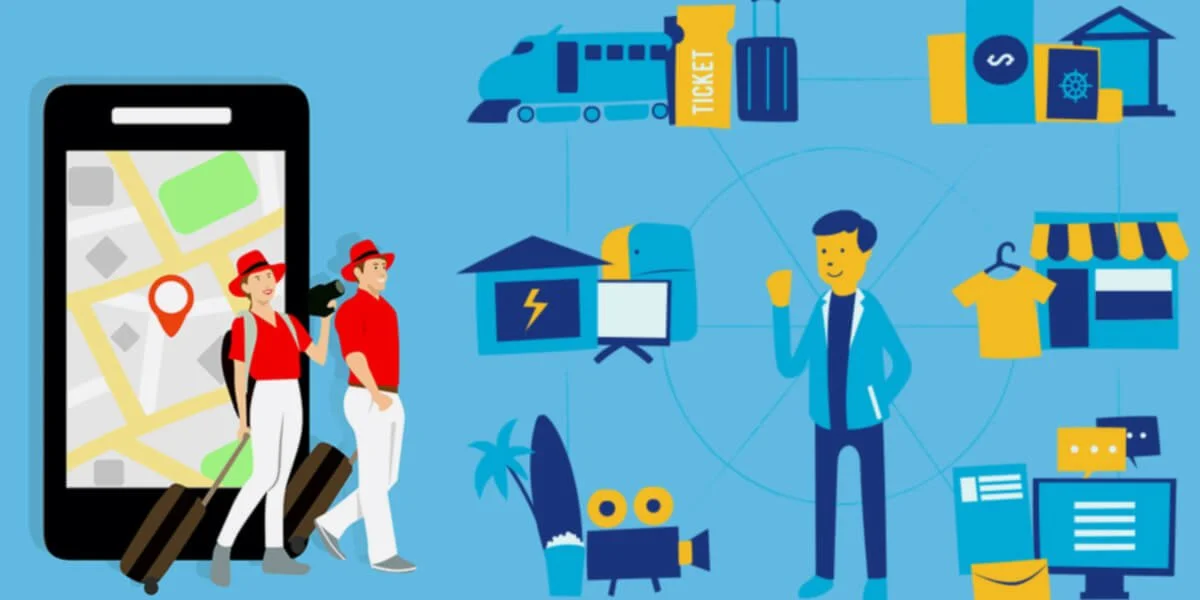 Do you belong to the travel industry? Are you looking forward to reaching a wider audience and increasing your business? Are you amazed how the travel industry has reached new heights with apps? But at the same time, you are also afraid of whether the mobile application will help your business or not.
If the answer to the above questions is yes, then you have reached the right place.
As a well-known travel app development company, we have helped many businesses worldwide by delivering mobile apps.
Over the years, many businesses ask us questions like, how mobile apps will be beneficial to the travel industry? Why does your travel business need a mobile app? Why are travel apps important? So, we have decided to provide a detailed guide on how a tourism app can benefit the travel industry.
The travel and tourism industry is growing at a tremendous rate. It is also considered one of the leading industries that serve millions of people across the globe. All this has been possible due to digitization.
In this era of smartphones and other gadgets, people are always looking for the best-in-class travel services that enhance their travel experience. On the other hand, businesses belonging to the tourism industry are going all-in to provide top-notch services to the people.
As per Statista, the travel and tourism industry has contributed more than the US $2.9 trillion as GDP in 2019.
As per eMarketer, travel mobile apps are the 7th most downloaded apps in terms of category, and more than 60% of users love to use travel apps for leisure activities.
Considering the above statistics and greater adoption of mobile apps by users, various businesses in the tourism sector have taken their business online by launching tourism apps.
If you are an entrepreneur and want to take your business online with the help of a tourism app, it is essential to know what is running in the market right now.
Therefore, we recommend you to check the best tourism apps among the users in the market in detail.
Here, we have made the list of the tourism apps that have been released over time and become popular worldwide.
So, let's start.
LoungeBuddy is a popular app that allows all travelers to instantly view, reserve, and access airport lounges worldwide. Loungebuddy covers over 800 of the world's busiest and most popular airports, with over 2000 lounges. Filter by amenities to locate the perfect lounge at the right moment for your needs. LoungeBuddy is modern, simple to use, and completely free.
Download for iOS
Airbnb is a travel app that connects people who want to rent out their homes with those looking for a place to stay in the same area. Airbnb allows you to rent single rooms, sofas, or an entire building floor. It is available in over 81,000 cities and 191 countries worldwide. In addition, the Airbnb app allows you to communicate with your host, get up-to-date information about your reservation, etc.
Skyscanner is an Edinburgh-based metasearch engine and travel agency app. The app is available in more than 30 languages, and 100 million people use it each month. The calendar feature on Skyscanner breaks down the cheapest dates in a given month to help you locate the best ticket deal. Use Skyscanner's intelligent filters to search by flight duration, airline, several stops, travel class, and departure and arrival times.
Travelers can use the Hopper app to find the most affordable flights to their selected destination. Hopper can anticipate the flight prices with 95% accuracy up to a year in advance. It has no ads & spam, and allows you to book flights and hotels efficiently. It has helped over 30 million travelers book trips around the world.
Tripit is a popular tourism app that helps users keep track of all of their trip plans. TripIt keeps you organized by creating a single itinerary for each trip. Furthermore, Tripit can send you valuable reminders and alerts, such as if your flight is canceled. In addition, Tripit makes it easy to add travel plans to your calendar and share them with anybody you want.
Hotel Tonight is the only app that removes the need for endless scrolling in search of the ideal hotel at the best price. Also, one can book hotels tonight, tomorrow, next week, next month, and around 100 days in advance. So whether last minute or in advance, you get the best rates and deals. HotelTonight makes it incredibly easy to find and reserve a sweet deal at a great hotel.
Users can use the app to find highly curated flights to their desired location. Also, advanced filtering tools are available to help you find the best flights. In addition, you can also find the best hotel and vehicle rental offers. Finally, Kayak trips, a feature of the app that allows you to keep track of your travel arrangements in one location, including free flight status updates, terminal maps, and security wait times.
It's a one-stop navigation tool that shows you the best path to your location using various modes of transportation. Walking, cycling, and taking public transit are some of these options. Compare your travel alternatives in real-time across all kinds of transport. Turn-by-turn directions can help you explore your city easily, whether you're taking public transportation, walking, cycling, or riding a scooter.
PackPoint is a free travel packing list organizer and packing planner for serious travelers. PackPoint will assist you in organizing what you need to bring in your luggage based on the length of any planned activities. After you've created and arranged your packing list, PackPoint will preserve it for you, and you can choose to share it with your friends and family in case they need packing assistance.
Culture Trip has experience in over 300 sites around the world. The local culture is made available to users worldwide, allowing them to discover new things to do in their selected destination. Travel with cultural trips, and we will assist you in getting it perfect, both before and during your trip. Travel with Culture Trip, and they will assist travelers in making the best decisions possible, both before and during your trip.
Looking for a user-friendly and intuitive app for your travel business?
GuruTechnoLabs is your perfect technology partner to help you ideate, design, and develop a travel app that reaches your potential audience.
After looking at the best tourism apps, we will walk you through the key features that have demand in the market and you must include them in your tourism app.
Without waiting much, let's get started:
Key Features of Tourism Apps
A tourism app consists of many features. Here we have curated the most important features that you should consider while developing a tourism app.
Travel Itinerary Generator
It is one of the most essential and highly-demanded tourism app features. Using this feature, the users can enter the destination's name, and the app will instantly plan the entire journey.
Here an app admin continuously includes new tourist spots or custom landmarks and integrates travel plans accordingly.
To provide this feature, you need to incorporate a complex algorithm in your tourism app, and it's somewhat challenging. Hence, you can approach a travel app development agency, and they will provide you with the best solution.
The second most important thing users want after the travel itinerary is the bookings. After deciding the destination, the user will look for their travel tickets and accommodation for the location. Here, they are looking for something affordable, secure, and reliable.
Hence, you can integrate a booking system in your tourism app that allows users to compare prices, set reminders, and get reminders about any hotel deals and discounts.
One of the most important things about the tourism mobile app booking feature is that it must be effortless to use. If users find it challenging to use, then you won't get bookings & your app might get uninstalled.
You can also collaborate with various hotels and flight companies to provide exclusive deals and offers to the users.
Apart from this, you can also provide a referral bonus and other related offers to users. The main purpose here is to attract a vast number of users, along with providing better service.
After reaching the desired destination, a user is generally looking for a hotel, cafe, or any nearby place for relaxation. Hence, you need to integrate the geolocation feature.
It is essential as it allows users to know their current location and discover various nearby locations. Here, they don't require any local guide or tour services.
This feature also allows users to find various public transport facilities available in their area quickly. Hence, they can reach their destination with ease.
To integrate this feature, you can go with Google Maps SDK, which is available for Android and iOS devices.
When tourists book their tickets, they are also worried about the weather of the particular place.
Due to any climatic change, tourists are forced to change their plans for the trip. So, if you provide a real-time weather feature, then that will become the biggest plus point of your tourism mobile app.
One of the most popular weather forecast apps is Accuweather; it allows users to check the weather of any place.
If you integrate this tourism app feature, users will not have to install any other app. This feature will not only allow users to check the weather of their destination in advance but also help them to plan the trip accordingly. It must also enable users to check various things like wind speed, humidity, etc.
Language translator will be one of the most challenging tourism app features to integrate into your travel application. However, if you add this feature to your tourism app, users will get hooked to your app.
Most users who are traveling to the destination don't have an understanding of the local language of the location. Due to this, there is a communication gap between app users and localities.
By adding the language translator feature, users will also be able to scan texts for visual translation, real-time voice translation, and any text. Also, this will help you to improve the user experience.
Carrying cash while traveling may not always be a good idea considering the exchange hassle and of course, the possibility of theft or losing the luggage or wallet.
This additional feature facilitating digital payments allows for a comfortable mode of transaction and ensures a safe trip. Users can shop and make their payment using digital modes of payment. For instance, they can make payments for reservations of hotels and travels online.
Tourists prefer to pay online. So, if your tourism app has features of online payment, it will give your customers a rich experience. Online payment is not only time saving, but it's also very secure.
Security is the biggest question in this digitized world for online transactions; however, today's technology has removed this fear from everyone's mind.
Moreover, all mobile app development companies are using the latest encryption technology for encrypting information so that it can't get hacked by anyone.
This new trend is catching on; it allows the traveler to share plans for travel with another traveler having similar travel interests. It provides the traveler with a travel buddy and allows sharing the travel cost making it an economical way to travel.
In other words, this feature can connect the traveler with the local users of the app so that they can have an enhanced experience of the visit.
Currency is one of the best tourism app features that you shouldn't forget to include in your app.
Various users face issues when it comes to exchanging currencies. When you include this feature in your tourism app, users can instantly know the exchange currency rates. Also, it should allow users to track the present and the earlier variations of the currency rate.
World Clock Time Converter
Due to crossing time, various users face difficulty in checking the exact changes in the clock times. It is a crucial feature that allows users to know the accurate time of two different time zones across the globe.
Moreover, when you provide a world clock time converter, tourists will not look out for any other time converting apps.
Finding a suitable washroom in case of emergency is the basic need of any traveler. Various users have gone through this condition and suffered too. Therefore, including the washroom finder feature would be highly beneficial for the app users.
Vehicle services are highly crucial for any tourism application. For example, most users look for cab service to reach their hotel or visit any of the attractions in the city.
Hence, integrating the cab service feature in your tourism app will attract more users and enhance their travel experience.
Location based Emergency Services
Emergencies can arise anywhere and anytime; hence, location-based emergency services are a necessary element for your tourism app.
When you are developing your tourism app from travel app developers, ensure that they include emergency phone numbers & locations as per the category and area/region. Due to this, users can instantly get the desired service.
Rating and reviews have become one of the most integral parts of any tourism application. New-age travelers love to read reviews about any place before they plan to visit that place.
According to TripAdvisor, 80% of their users spend four weeks reading reviews of various users on the platform. This indicates the importance of reviews on a tourism app.
Therefore, you should make sure that there are reviews of various places on your app. By this, users will view reviews and ratings about any place and then decide to book a place.
On the other side, you should allow the app users to share their experiences in the form of reviews & ratings and connect with other fellow travelers.
This will increase awareness about your app and assist various hotels, cars, etc. in improving themselves.
Want to know which key features would be best suited for your travel app? Share your project details with us. Our expert will provide a free consultation.
Here are some of the advantages of tourism apps for tourism industries:
Tourism apps allow tour or travel agents to understand the customers effectively.
Travel agents can provide customized services to the users with the help of a tourism application.
Due to tourism apps, agents can have efficient communication with the customers.
Tourism industries can offer instant payments to various locations from their app.
Using a tourism app, travel agencies can provide all kinds of bookings, such as hotels, cabs, events, etc., at one place.
By developing a tourism app, travel agencies can reduce the paperwork and allow travelers to store various documents in the app.
Apart from this, there are various other benefits that a travel or tour business can get by building a mobile app.
We hope you have understood the key benefits and features of the tourism apps for the travel industry. So, if you are running a tourism industry offline, then this is the time to take it online.
Whether you want to develop a new tourism app or convert your existing website into a tourism app, you can approach us.
GuruTechnoLabs is a leading travel app development company. We possess a dedicated team of developers who have years of experience in building the best tourism apps.
You are welcome to share your project details, and we will provide you with a free quote.
Frequently Asked Questions
Q 1. How do mobile apps benefit the travel and tourism industry?
The main benefit of mobile apps is that it makes the booking smooth and reduces the paperwork. Using gadgets, people can save their flights, hotel, and other bookings online. It reduces a lot of hassle.
Q 2. What do people want in a travel app?
People want to make their trip as smooth as possible. Hence, they look for many services in a travel app like hotels, restaurants, places to visit, rental services, and more.
Q 3. What is the purpose of a travel app?
The primary purpose of a travel app is to allow users to book and manage their travel while moving anywhere in the world.
Q 4. What makes a good travel app?
A good travel app provides solutions to the users' problems instantly. The app's interface should be such that users can access all essential things effectively.