A Detailed Guide to Start a Parking Lot Business
Last Updated: January 6, 2023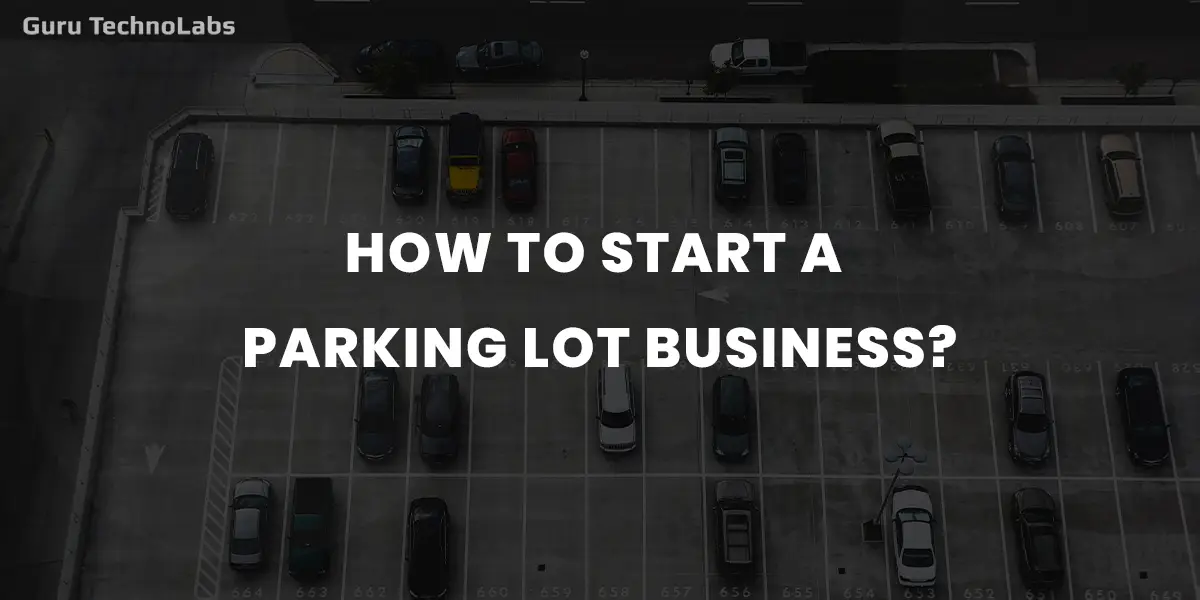 Over the years, many people were struggling to find parking spots while roaming in their city or visiting a new city. Hence, many businesses worldwide have started working on this problem and opening parking lot businesses.
Parking of automobiles is a rising problem across the globe. Hence, the demand for parking lot business will not end anytime soon. According to IBISWorld, the revenue of the parking lots & garages in the US is $8.1 billion in 2023. Moreover, the revenue will reach new heights in the coming years.
With the increasing demand, owning a parking lot is the best investment opportunity. Starting a parking lot business is – buying property, getting legal rights, and opening your own parking lot. However, in reality, it is not that simple.
It takes a strong business plan, finding the proper commercial property, going through some legalities and paperwork, and whatnot. But, if you have decided to start a parking lot business, you have reached the right place. Here we will provide you with a streamlined process to start a parking lot business.
So, let's get started:
Let us look at them in detail:
1. Create a Business Plan
A highly-organized business plan will help you succeed in the parking lot business. In addition, this will help you discover various specifics, such as the opportunities and threats to your business.
For creating a proper business plan, you need to find answers to a few questions as follows:
How much will it cost initially in starting a parking lot business?
It will depend on where you are going to open your parking lot and on the type of your parking lot. Generally, indoor garages in commercial buildings can cost thousands of dollars in comparison to the outdoor parking lots in smaller cities.
What are the recurring costs involved in a parking lot business?
Unlike other businesses, parking lot businesses have low maintenance costs. The majority of it involves rent or mortgage payments, wages of parking lot attendants, utilities, insurance, repainting lines, etc.
Who are my potential customers?
Parking lots are used by customers dealing with parking problems on streets or the working professionals that do not have parking facilities at their workplace.
How much will you charge your customers?
Most Parking lot business charges their customers on an hourly basis. You should research surrounding parking lots to get insights into competitive pricing. You can also provide offers or discounts in the initial days to make your customer base.
What will be the name of your business?
Choosing a name for a business should be given the top priority. Select a name that best conveys what are you doing. It's also necessary to check states' business records, web domain availability, or social media platforms before registering your business name.
Having a legal business entity is crucial for every small to large business. There are various business entities available like sole proprietorship, partnership, corporation, Limited Liability Company (LLC), etc.
Forming a business entity like LLC and corporation prevents you from being personally accountable if your parking lot business is sued for any reason.
Firstly, you should collect information about the average selling price for parking spots to provide car parking services.
Reach to a loan officer or a credit union to check whether you have good credit scores to qualify for a commercial loan. Also, you can contact small business administrations that provide low-interest loans to entrepreneurs who want to start their ventures.
4. Find the Location of Your Parking Lot
Get engaged with a real estate professional to assist you in finding the best commercial property on a great deal for a given region of your choice.
Choose places, where street parking is limited, in commercial areas, event spaces that attract a large crowd, near colleges, nest to airports, adjacent to hospitals, etc. A parking lot near a harbor will also be in demand as travelers face issues finding a space to park their cars.
Before opening your parking lot business, you need to register for many sorts of state and federal taxes. It solely depends on the business structure you choose and accordingly you'll get various options for how your business is taxed.
For example, commercial parking lot owners have to pay a 12.5% tax on the total parking fee in Seattle, Washington.
6. Define all the Specifics
It would help if you planned adequately whether you want to rent spaces to the customer monthly or yearly or are looking to rent out the parking area at an hourly or daily rate.
It helps you estimate the price you want to charge the user at the parking lot. Also, make sure the pricing is reasonable and sufficient to pay your expenses.
7. Organize Your Parking Lot Properly
You should consult an architect about your parking lot plans. They have expertise in designing parking lots to ensure all your requirements are met. It is vital to verify that your parking lot possesses the maximum number of spaces per the layout and size.
To check the space, you can also construct a lot properly and paint the line to divide spaces between cars properly. If you plan to rent out the parking space, it is recommended to assign numbers. It will help customers quickly find and use their space.
8. Provide Best Safety and Security
Install security cameras to keep an eye on everything happening in your parking lot. You can also retain a password gate or an attendant at the parking lot to look after anyone who does not have permission to park their car.
Besides this, you can also hire a security guard who will control all the parking lot activities when all the users are enjoying their day.
9. Open a Business Bank Account
When you merge your business and personal account, your assets like your home, car, etc., are at risk in case your business is sued. Using specific business banking and credit accounts for your business transactions helps to protect your personal asset.
Also, business accounts have their own benefits like credit cards on your business's name, better interest rates, and many more.
10. Obtain Business Insurance
If you have business insurance, you will be able to operate your business safely and lawfully. In addition, this insurance safeguards you financially in case of loss. For example, if there is any damage to a person's car in your parking lot, it will be covered.
Different insurance policies are present for other businesses. If you are not familiar with them, you can choose to go with General Liability Insurance.
Aside from that, you can get Workers' Compensation Insurance. This insurance is helpful to cover the losses of any employees that are working in the parking lot.
11. Develop a Parking Mobile App
After deciding all the above things, it is time to take your parking lot business online. You should create a mobile app for your parking lot business to accomplish this. Why?
The number of smartphone users grows every year. The users usually look for a solution through apps. Therefore, you should create a mobile app to reach a wider audience. Moreover, you can provide a better experience to users and generate good revenue.
To get the inspiration you can check some of the best parking mobile apps currently available to get an idea about the features to include in your app.
12. Promote your Business
After you have developed your parking mobile and deployed it on the Play Store and App Store, it must reach potential customers.
To promote your brand or business, you should define an effective marketing plan for your app. It should include different types of marketing such as social media marketing, email marketing, etc.
Here we conclude our guide on starting a parking lot business. We hope you have understood the process of starting a parking lot business.
If you still have any questions regarding starting a parking lot business, you can contact us.
Guru TechnoLabs is a leading web and mobile app development company. We have developed some of the best mobile apps for businesses & startups worldwide. If you have a unique parking app business idea, we can help you convert it into reality.
Frequently Asked Questions
Q 1. Is Owning a Parking Lot Profitable?
Yes. Parking lot business is a great investment as in urban areas people face too many parking problems and they are ready to pay any price for safely parking their cars. Also, the hourly-based payment model makes it reasonably more profitable than other businesses.
Q 2. How to Set Up a Parking Lot?
There are three main types of telemedicine. They are as follows:
1. Provide as many as possible access points for the entries
2. Have a separate pedestrian walkway from parking passages
3. Keep widths of parking passages wider for two-way traffic
4. Parking spaces must be located close to the entrances
Q 3. How Much Revenue Does a Parking Lot Generate?
If you have the capacity of 30 parking spaces with the $10 charge each on daily basis on average, then you can earn $109,500 annually.
Q 4. How to Manage a Parking Lot?
If you have the capacity of 30 parking spaces with the $10 charge each on daily basis on average, then you can earn $109,500 annually.
Install CCTV for regular surveillance
Install good lighting for a better vision on night
Repaint the parking lines frequently
Check on signing boards at every turning point of the parking lot
Appoint parking lot attendants to manage day-to-day chores