A Detailed Guide to Start a Parking Lot Business
8 mins
read
Last Updated May 3, 2022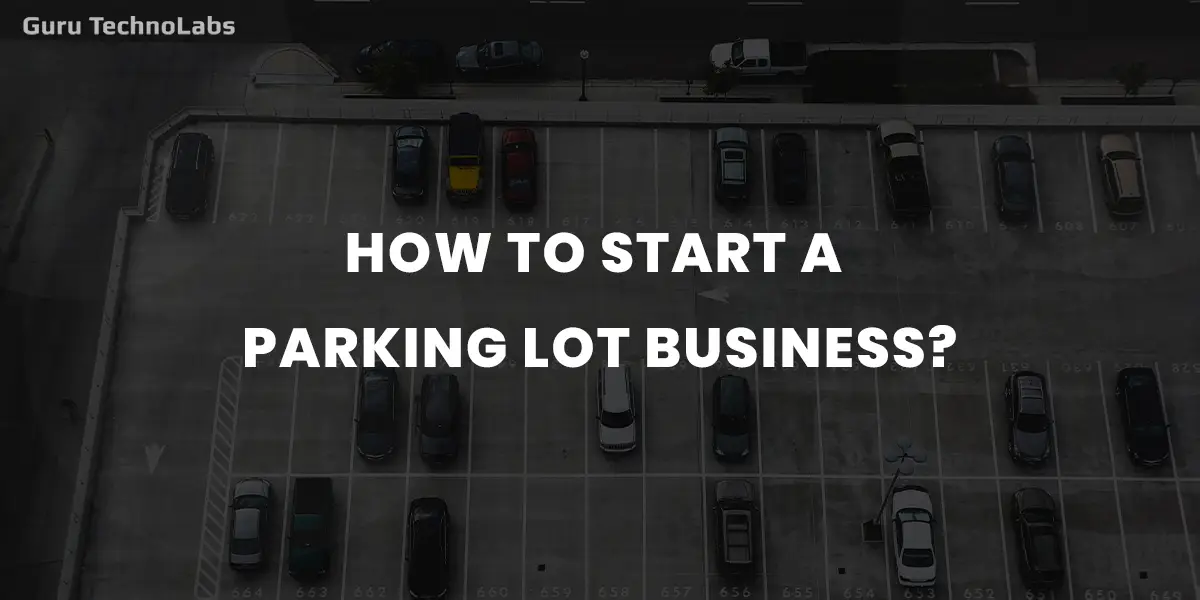 Over the years, many people were struggling to find parking spots while roaming in their city or visiting a new city. Hence, many businesses worldwide have started working on this problem and started parking lot businesses. A parking lot is mainly a motor park, a designated area for parking automobiles.
Parking of automobiles is a rising problem across the globe. Hence, the demand for parking lot business will not end anytime soon. According to IBISWorld, the revenue of the parking lots & garages industry is $9.9 billion in 2022. Moreover, the revenue will reach new heights in the coming years.
With the increasing demand, if you also own a parking lot business, then this is the best time. Starting a parking lot business is – buying property, getting legal rights, and starting the business. However, in reality, it is not that simple.
For starting a parking lot business, you need proper investment in location. In addition, you need to invest in hiring parking attendants, marketing, and other things.
If you have decided to start a parking lot business, you have reached the right place. Here we will provide you with a streamlined process to start a parking lot business.
So, let's get started:
Let us look at them in detail:
1. Create a Business Plan
A highly-organized business plan will help you succeed in the parking lot business. In addition, this will help you discover various specifics, such as the opportunities and threats to your business.
For creating a proper business plan, you need to find answers to a few questions as follows:
What are the initial costs of starting a parking lot business?
How much will it cost to operate a parking lot business?
Who is my potential audience?
What is the time required to reach your profits equal to your costs?
What will be the name of your business?
Build a legal business entity like LLC. It prevents you from being personally accountable if your parking lot is issued. You can reach out to a registered agent to help you with this since they will protect your privacy and help you stay in compliance.
Firstly, you should collect information about the average selling price for parking spots to provide car parking services.
Reach to a loan officer or a credit union to check whether you have good credit scores to qualify for a commercial loan. Also, you can contact small business administrations that provide low-interest loans to entrepreneurs who want to start their ventures.
4. Find the Location of Your Parking Lot
You might engage with a real estate professional to assist you in finding the best commercial property at the best price in a given region for this assignment.
A parking lot near a harbor will be in demand as travelers face issues finding a space to park their cars.
Before you can start your firm, you need to register for many sorts of state and federal taxes. For example, commercial parking lot owners have to pay a 12.5% tax on the total parking fee in Seattle, Washington.
6. Define all the Specifics
It would help if you planned adequately whether you want to rent spaces to the tenants monthly or yearly or are looking to rent out the parking area at an hourly or daily rate.
It helps you estimate the price you want to charge the user at the parking lot. Also, make sure the pricing is reasonable and sufficient to pay your expenses.
7. Organize Your Parking Lot Properly
You should consult an architect about your parking lot plans. They have expertise in designing parking lots to ensure all your requirements are met. It is vital to verify that your parking lot possesses the maximum number of spaces per the layout and size.
To check the space, you can also construct a lot properly and paint the line to divide spaces between cars properly. If you plan to rent out the parking space, it is recommended to assign numbers. It will help tenants quickly find and use their space.
8. Provide Best Safety and Security
Install security cameras to keep an eye on everything happening in your parking lot. You can also retain a password gate or an attendant at the automobile parking lot to look after anyone who does not have permission to park their car.
Besides this, you can also hire a security guard who will control all the parking lot activities when all the users are enjoying their day.
9. Open a Business Bank Account
Using specific business banking and credit accounts for your business transactions is crucial for personal asset protection. You will be able to keep your account safe by doing so.
When you merge your business and personal account, your assets like your home, car, etc., are not safe.
And your business might get sued.
10. Obtain Business Insurance
If you have business insurance, you will be able to operate your business safely and lawfully. In addition, this insurance safeguards you financially in case of loss. For example, if there is any damage to a person's car in your parking lot, it will be covered.
Different insurance policies are present for other businesses. If you are not familiar with them, you can choose to go with General Liability Insurance.
Aside from that, you can get Workers' Compensation Insurance. This insurance is helpful to cover the losses of any employees that are working in the parking lot.
11. Develop a Parking Mobile App
After deciding all the above things, it is time to take your parking lot business online. You should create a mobile app for your parking lot business to accomplish this. Why?
The number of smartphone users grows every year. The users usually look for a solution through apps. Therefore, you should create a mobile app to reach a wider audience. Moreover, you can provide a better experience to users and generate good revenue.
We recommend you hire a mobile app development company to develop an app. They will help you right from the imagination to the launch of your mobile parking app.
12. Promote your Business
After you have developed your parking mobile and deployed it on the Play Store and App Store, it must reach potential customers.
To promote your brand or business, you should define an effective marketing plan for your app. It should include different types of marketing such as social media marketing, email marketing, etc.
Here we conclude our guide on starting a parking lot business. We hope you have understood the process of starting a parking lot business.
If you still have any questions regarding starting a parking lot business, you can contact us.
Guru TechnoLabs is a leading web and mobile app development company. We have developed some of the best mobile apps for businesses & startups worldwide. If you have a unique parking app business idea, we can help you convert it into reality.